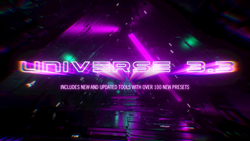 Red Giant Universe 3.3 introduces stunning animated light trails and powerful blend modes
FRIEDRICHSDORF, Germany (PRWEB) August 18, 2020
Red Giant has just released an update to Universe, its collection of GPU-accelerated plugins for editors and motion graphics artists. Universe 3.3 delivers two brand new tools and an update to four current ones in the existing Universe suite. Visual artists will have access to an even greater selection of dynamic tools for motion graphics with the introduction of Quantum and Modes and as well as the updated versions of the Glow, Glimmer, Chromatic Aberration and Hacker Text tools.
Watch now: What's New in Universe 3.3
Two Brand New Tools in Red Giant Universe 3.3

Quantum: This tool creates the illusion of an animated light trail in front of or behind a layer - great for text and motion graphics.
Modes: Modes makes it easy to combine layers in entirely new ways using powerful features that go beyond the native blend modes found on an editing timeline. For artists using Avid Media composer, Modes will be a game changer.
Updates and Presets
Universe 3.3 includes a total of over 100 new presets for the new and updated tools.
Glow: Universe Glow now offers inverse-square glow falloff, multi-pass chromatic aberration and the ability to glow a single color channel.
- Glimmer: This update gives users six mono or bi-directional glow streaks with variable intensity and color mapping, an animatable shimmer, variable rotation control, and color maps aligned with Trapcode's Starglow.
- Chromatic Aberration: This tool now includes control over the focus area, the ability to split the aberration into multiple passes, and chromatic rotation.
- Hacker Text: The popular computer text tool now features customizable random characters and the ability to auto-animate the encryption and decryption.
Learn more about what's new in Universe 3.3 and how to update on the Red Giant blog.
Red Giant Universe is available as a standalone subscription or as part of Red Giant Complete, the subscription service that gives editors, motion designers and VFX artists all Red Giant tools at one low price - Trapcode Suite, Magic Bullet Suite, Universe, VFX Suite and Shooter Suite. With Red Giant Complete, annual subscribers will have the most up-to-date versions of all tools, saving thousands of dollars over traditional perpetual licenses.
Universe 3.3 Pricing and Availability
Full Suite: $199 annual; $30 monthly
NEW TO UNIVERSE?
If you aren't already a Universe customer, you can purchase a subscription or download a free trial at http://redgiant.com/universe.
Universe 3.2 runs on Windows and OS X, and includes over 80 tools that run in:

Adobe After Effects CC 2017 or later
Adobe Premiere Pro CC 2017 or later
Apple Final Cut Pro X 10.2.3 or later
Apple Motion 5.3.2 or later
Avid Media Composer 8.2 or later
Magix VEGAS Pro 14 or later
DaVinci Resolve 14 or later
HitFilm Pro 6.0 and later
Visit the Universe Compatibility page to learn more about specific versions and OS support.
As always, if you have any questions or problems, the Red Giant support team is here for you.
The Red Pledge
Red Pledge is Red Giant's commitment to customer happiness, with no purchasing hassles. Learn about the Red Pledge guarantee at https://www.redgiant.com/company/red-pledge/.
Request a Red Giant Universe Media Review Kit
Members of the media are invited to review Red Giant Universe as well as any individual tools or product suites from Red Giant. For more information or to request a product review kit, please contact Megan Linebarger at megan@zazilmediagroup.com.
About Red Giant
Red Giant is a software company made up of talented artists and technologists who collaborate to create unique tools for filmmakers, editors, VFX artists, and motion designers. Our company culture is focused on finding balance between work and life – we call it "the double bottom line" – this philosophy helps us ignore complexity in favor of building simple tools that yield giant results. Over the last decade, our products (like Magic Bullet, Trapcode, Universe and PluralEyes) have become the standard in film and broadcast post-production. With over 250,000 users, it's nearly impossible to watch 20 minutes of TV without seeing our software in use. From our experiences as artists and filmmakers, we aspire to not only provide tools for artists, but inspiration as well. Watch our films, learn from over 200 free tutorials, or try our software at http://www.redgiant.com.
About Maxon
Maxon is a developer of professional 3D modeling, painting, animation and rendering solutions. In January, Maxon and Red Giant closed a merger of the two companies. The combined company's award-winning Cinema 4D, Redshift 3D and Red Giant products have been used extensively to help create and render everything from stunning visual effects in top feature films, TV shows and commercials, cutting-edge game cinematics for AAA games, as well as for medical illustration, architectural and industrial design applications. Maxon products are available directly from the website and its worldwide distribution network. Maxon is part of the Nemetschek Group.
Maxon Web Resources
Additional information on Maxon can be obtained as follows:

All trademarks contained herein are the property of their respective owners.