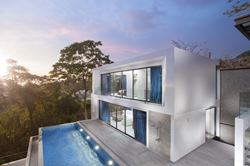 We offer a minimum of 10% commission on rental pricing to bonafide Travel Advisors... differentiating RedAwning TravelPro from the competition.
EMERYVILLE, Calif. (PRWEB) June 20, 2019
RedAwning.com, the world's largest network of vacation rental properties, today announced that it has redesigned TravelProRentals.com, the travel industry's premiere commissionable vacation rental booking site and rebranded as "RedAwning TravelPro." The site has a new look and new features, while still offering retail travel advisors and tour operators access to over 100,000 unique, professionally-managed vacation rental properties worldwide.
RedAwning TravelPro provides the unique ability for advisors and operators to work under their own agency/operator trademark, and share branded emails and brochures with their clients. Users will be able to confirm reservations and process payments instantly -- all while earning a commission (or booking with net rates).
Vacation Rental properties operating "under the awning" of RedAwning Group come with a 100% accuracy guarantee, round-the-clock guest and advisor support via text, chat, or email, as well as standardized contracts and no security deposits required. Thousands of properties are offered with RedAwning's free cancellation policy that allows advisors to cancel reservations with no penalty if executed within the cancellation window stated.
"The enhancement of our site opens up a great deal of new opportunity for participating Travel Advisors and our internal property owners and managers," said Director of RedAwning TravelPro, Cindy Brewster. "RedAwning TravelPro advisors now have exclusive access to our inventory of 100,000 + alternative accommodation options at competitive, commissionable rates. We offer a minimum of 10% commission on rental pricing to bonafide Travel Advisors, embracing this key audience, and differentiating RedAwning TravelPro from the competition. An enhanced wholesale operator platform is also in the works, giving additional options to that important audience at net rates, and will be announced very soon. Our in-network property owners and managers benefit by gaining exposure to a new group of consumers who book travel exclusively through their Travel Advisors around the world. It's a win/win scenario that is true to our tagline Where Travel Professionals and Vacation Rentals Unite."
Registration with RedAwning TravelPro is limited to licensed travel industry professionals. The site is free and password protected. More than 15,000 Travel Advisors are already registered with RedAwning TravelPro, and the demand for new registrations continues to grow.
Industry Leading Innovations of the new RedAwning TravelPro website include:

A minimum 10% commission on each booking
Net Rates on approval -- limits apply
Real-time availability and rates on over 100,000 unique accommodations including homes, apartments, condos, apart-hotels, executive suites, resorts, and boutique hotels for leisure, business, and corporate clients
Ability to generate branded brochures, PDF collections and emails for clients
Folders for storing client information and property portfolios
Through July 2019 advisors currently using travelprorentals.com to book their vacation properties will be invited to the new site at http://www.redawningtravelpro.com where they will be guided through password reset and confirmation of any information already supplied. New Travel Advisors and Agencies can request an account or sign up an agency under their network as well.
ABOUT REDAWNING
RedAwning is one of the world's largest branded collections of vacation properties offering a comprehensive layer of solutions and support with every stay, including 24/7 guest and property manager support services, complete marketing, distribution, and reservations management solutions, digital solutions incorporating Google-integrated ads, and a full range of additional technology and service innovations. With over 100,000 unique properties in over 10,000 destinations, RedAwning has served over 550,000 travelers to date and continues to expand on being the broadest single point of access to the largest network in the world for alternative lodging. RedAwning is a leading supplier of vacation rentals to every major online travel booking website including Booking.com, Expedia, HomeAway/VRBO, Flipkey/TripAdvisor, and Airbnb. RedAwning also operates a number of exclusive vacation property booking websites, including Perfect Places, VaycayHero, TravelPro Rentals, and RedAwning.com.
RedAwning has been a leading innovator in the vacation rental industry since 2010, with a mission to redefine the customer journey for guests, hosts and managers and to drive new approaches that make the booking experience more consistent, easier, safer and better for all. The company is profitable, rapidly growing, and backed by Silversmith Capital Partners.
Since 2017, RedAwning has expanded its reach and services by acquiring Vaycayhero.com, PerfectPlaces.com, TravelProRentals.com, Leavetown Vacations, Jetstream by Leavetown and Blizzard Internet Marketing.
To browse the RedAwning Collection, please visit http://www.redawning.com
To learn more about RedAwning Group, visit RedAwningGroup.com
ABOUT REDAWNING TRAVELPRO
Acquired in 2015 by RedAwning, TravelPro Rentals, rebranded as RedAwning TravelPro is a B2B booking tool that provides vacation rental reservations and related services exclusively to Tour Operators and Travel Advisors. Additional information or questions regarding RedAwning TravelPro can be directed to TravelProrentals(at)RedAwning.com