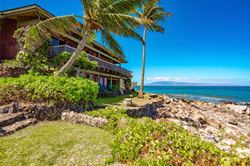 RedAwning Property Managers in Maui are already outstripping their competitors... what better time than now to escalate our regional support efforts for property managers?
EMERYVILLE, Calif. (PRWEB) May 15, 2019
RedAwning.com, the world's largest network of vacation properties has released its first white paper exploring tourism and accommodation trends on Maui over the past few years. The report highlights that the growing demand for alternative accommodations on the island is gaining traction on that of traditional accommodations such as hotels.
To support the growing opportunity for Property Managers on the island, RedAwning has recently relocated its Market Director of Hawaiian Islands, Brandon Sacks, who will now be operating out of Maui indefinitely. Sacks has worked closely with hotel and property management companies as an educator, presenter, and strategist for years, and has been a part of RedAwning's Market Management team for 2 years. His formal relocation commences the company's efforts to serve property managers on Maui more directly to ensure faster, more strategic planning and support, and the best results in the industry.
"RedAwning Property Managers in Maui are already outstripping their competitors and tourism generated revenue continues to rise. What better time than now to escalate our regional support efforts for property managers?," said RedAwning's Vice President of Market Management, Dustin Warr.
According to the report published by RedAwning, Maui saw almost 3 million visitors and over $5 billion in tourism-generated revenue in 2018, with a 5% average growth rate YOY. In 2019, the average daily number of visitors on Maui rose to 67,078 with daily expenditure reaching $15M/day.
The full report is available to download, here.
Property managers can find out about RedAwning's Complete Distribution, Marketing and Reservation Services for vacation properties on their website at: http://www.redawninggroup.com
About RedAwning
RedAwning is the world's largest chain of vacation properties offering a comprehensive layer of solutions and support with every stay, including 24/7 guest and property manager support services, complete marketing, distribution, and reservation management solutions, digital solutions incorporating Google-integrated ads, a mobile app for property managers and guests, and a full range of additional technology and service innovations. With over 100,000 unique properties in over 10,000 destinations, RedAwning has served over 550,000 travelers to date, and continues to expand on being the broadest single point of access to the largest network in the world for alternative lodging. RedAwning is the leading supplier of vacation rentals to every major online travel booking website including Booking.com, Expedia, HomeAway/VRBO, Flipkey/TripAdvisor, and Airbnb. RedAwning also operates a number of exclusive vacation property booking websites, including Perfect Places, VaycayHero, TravelPro Rentals, and RedAwning.com.
RedAwning has been a leading innovator in the vacation rental industry since 2010, with a mission to redefine the customer journey for guests, hosts and managers and to drive new approaches that make the booking experience more consistent, easier, safer and better for all. The company is profitable, rapidly growing, and backed by Silversmith Capital Partners.
Since 2017, RedAwning has expanded its reach and services by acquiring Vaycayhero.com, PerfectPlaces.com, TravelProRentals.com, Leavetown Vacations, Jetstream by Leavetown and Blizzard Internet Marketing.
To browse the RedAwning Collection, please visit http://www.redawning.com
To learn more about RedAwning's Complete Distribution, Marketing and Reservation Services for vacation properties visit http://www.redawninggroup.com