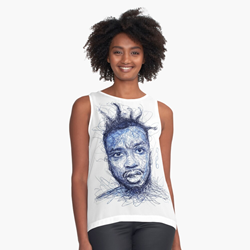 ODB lives on in his fans, and now his family is inviting fans to translate their admiration and what ODB means to them into art they can sell on Redbubble.
SAN FRANCISCO (PRWEB) March 18, 2020
Global artist marketplace leader Redbubble Group today announced the launch of its official fan art program dedicated to the life and music of hip-hop icon Russell Tyrone Jones, better known by his stage name "Ol' Dirty Bastard" or "ODB." ODB was a founding member of Wu-Tang Clan, widely considered to be one of the greatest and most influential hip-hop groups of all time. Wu-Tang members RZA, Raekwon, Method Man, Masta Killa, and Ghostface Killah appeared on ODB's Grammy-nominated debut album, Return to the 36 Chambers: The Dirty Version, which was released on March 28, 1995.
"ODB lives on in his fans, and now his family is inviting fans to translate their admiration and what ODB means to them into art they can sell on Redbubble," said Eric Morse, SVP, content partnerships and general manager, global licensing for Redbubble. "Through his music, ODB shared so much creativity with the world, inspiring artists from all walks of life. This partnership will enable people to extend and expand upon that creativity while putting their own personal spin on it."
As part of Redbubble's Partner Program, artists create fan art according to brand guidelines, and fans can purchase unique designs and have them printed on 120+ everyday, high-quality products on redbubble.com. Famed illustrator and activist Nikkolas Smith, author of the book Sunday Sketch: The Art of Nikkolas, unveiled his tribute to ODB this week on the marketplace. Smith's work has been featured in news outlets such as TIME, the New York Times, Washington Post, and BuzzFeed, and in movie/television posters including Black Panther, Beale Street, Southside with You, "Dear White People," and more.
"The Estate of Ol' Dirty Bastard is thrilled to be celebrating ODB's 25th anniversary of his solo career by partnering with Redbubble and supporting the artist community," said Nicole Beckett, creative director at Four Screens Management, Estate of ODB. "ODB was a talented musician, and a larger-than-life icon who is still inspiring artists and music fans across the globe. Having an artist of Nikkolas Smith's caliber kick off our fan art program is a testament to ODB's legacy."
"We are thrilled to celebrate the 25th anniversary of my late husband's album, Return to the 36 Chambers: The Dirty Version and encourage artists to display their ODB-inspired work on Redbubble," said Icelene Jones, administrator of the Estate of Ol' Dirty Bastard. "We appreciate how steadfast his fans have been, and how they have honored his talent and passion with a platinum album this year!"
The fan art partnership between Redbubble Group and the estate of ODB is part of a series of events celebrating the life and music of the man known worldwide for his creativity and skillfully irreverent rhymes. To mark the 25th anniversary, ODB's debut album has now been certified platinum by the RIAA and will be commemorated with two special edition releases from Rhino Entertainment. This partnership was brokered by the ODB state management team at Four Screens Management and ODB's global licensing agent FanGirl Consulting & Brand Management.
The first album, one of the most expansive hip-hop reissues in history, will be The Return to the 36 Chambers: The Dirty Version (25th Anniversary Digital Deluxe Edition) on March 27. The 43-track reissue features newly remasters versions of the original album and music that has never been available digitally, including EP tracks, rare instrumentals, and promo exclusives from the past. The deluxe edition also features two previously unleased tracks: "Shimmy Shimmy Ya (Stripped Version)" and "Brooklyn Zoo (Stripped Version)." A vinyl box set--featuring all 17 songs from the original album on nine, 7-inch singles pressed on blue, yellow, and white vinyl--will be released on April 18 for Record Store Day, limited to 3000 individually-numbered copies.
More information and guidelines for submitting ODB fan art on Redbubble can be found here: https://help.redbubble.com/hc/en-us/articles/360039140192-Guidelines-Ol-Dirty-Bastard
###
About the Estate of Ol' Dirty Bastard
The Estate of Ol' Dirty Bastard is dedicated to promoting the legacy of a Platinum Recording Artist and unique American hip hop icon. Ol' Dirty Bastard was a founder of the Wu-Tang Clan, a rap group that first rose to mainstream prominence with their 1993 debut album Enter the Wu-Tang (36 Chambers). After establishing the Wu-Tang Clan, Ol' Dirty Bastard went on to pursue a successful solo career, working with musicians such as Mariah Carey, Kelis, Pras, Mya and Wyclef Jean. His solo albums include 36 Chambers: The Dirty Version and N***a Please. For more information, visit Instagram: @oldirtybastardlegacy
About Redbubble Group
Founded in 2006, the Redbubble Group incorporates Redbubble Limited and its subsidiaries, including TP Apparel LLC (TeePublic). The Redbubble Group owns and operates the leading global online marketplaces hosted at Redbubble.com and TeePublic.com, powered by more than one million independent artists. The Redbubble Group's community of passionate creatives sell uncommon designs on high-quality, everyday products such as apparel, stationery, housewares, bags, wall art and so on. Through the Redbubble and TeePublic marketplaces, independent artists are able to profit from their creativity and reach a new universe of adoring fans. For customers, it's the ultimate in self-expression, a simple but meaningful way to show the world who they are and what they care about. Follow Redbubble and TeePublic on Twitter and Instagram at @redbubble and @teepublic.
Media contact: Marissa Hermo - marissa.hermo@redbubble.com