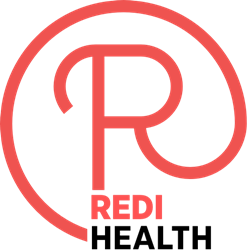 The complex needs of polychronic patients have not yet been addressed by the market - so we've focused on developing a technology that is built for them.
COLUMBUS, Ohio (PRWEB) October 06, 2021
Today, Redi.Health, provider of health management technology that improves total patient health, is announcing it has secured seed funding, led by Cleveland, Ohio-based Mutual Capital Partners (MCP), to broaden the development and availability of its novel platform that improves daily health management for polychronic patients. The financing is supported with additional investment from M25, Rev1 Ventures and Plug and Play.
The population of polychronic patients (those with three or more chronic diseases), is expected to triple to nearly 90MM patients in the next decade. For these patients, the management of appointments, medications and daily life is critical. Redi.Health combines health management and partnered pharmaceutical manufacturer support into one tool to deliver a truly patient-centric platform that helps people improve their adherence as well as their quality of life.
"The complex needs of polychronic patients have not yet been addressed by the market - so we've focused on developing a technology that is built for them," said Luke Buchanan, co-founder and CEO of Redi.Health. "By providing a contemporary pathway for pharmaceutical companies, hubs, and other partners to support and engage patients digitally, Redi.Health aims to bridge the technology gap of Pharma and Patient Support so patients can achieve their best outcome. With this funding from leaders in Ohio and beyond, we're poised to accelerate our commercialization of this very important technology."
The financing will support the continued growth of the Redi.Health team, as well as its go-to-market strategy to reach leaders in the healthcare industry, including Pharmaceutical manufacturers and Specialty Pharmacies.
"Luke and the Redi.Health team impressed us from day one with their strong track record and vision for a game-changing healthcare technology that serves multiple markets and stakeholders," said Liz Todia, Principal at MCP. "Redi.Health has created a dynamic solution that helps an underserved patient population manage their daily health and we are proud to support them as they innovate and grow."
For more information about Redi.Health's ground-breaking approach, visit https://www.redi.health/
About Redi.Health
In 2021 Redi.Health was founded with a simple goal: Empower patients to take control of and contribute to their health journey. We believe that when it comes to healthcare, the patient is often forgotten and left to navigate the overwhelming world of healthcare on their own. To fix this problem we developed Redi.Health. Redi puts more simplified tools in the hands of patients than ever before and creates novel pathways of connectivity to the support and resources patients wouldn't otherwise have access to. It's simple – we believe in patients and give them the tools to take control of their health.
About Mutual Capital Partners
Mutual Capital Partners is a venture fund investing in rapidly growing medical device and software businesses located outside major technology hubs. Our investors are successful executives from across the U.S. and we've combined the best elements of an angel fund into a committed capital, professionally managed venture fund. Management is a key focus for us and we work with our 100+ investors in our funds to assist us in due diligence, customer introductions, and ongoing advice and counsel to our portfolio executives. MCP is committed to entrepreneurialism working with angel funds, economic development entities, and entrepreneurs to assist them through the capital continuum.