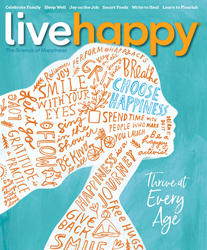 This is our largest, most comprehensive issue yet.
DALLAS (PRWEB) September 18, 2018
Who doesn't want to stay forever young? Live Happy's new issue cover story "Happy for Life" explains how building positive habits like eating right, staying active, sleeping well and training your brain to be mindful and calm are the keys to a long and joyful life. Yet even more important? Having close, meaningful relationships.
"People who live a long time have a lot of positive emotion," says George Vaillant of the Harvard Study of Adult Development. "And that means being part of a community. It's hard to have positive emotion on a deserted island; you need other people."
Well-being research and Blue Zones author Dan Buettner backs that up. "Making sure you have happy friends affects how long you live, because that's contagious. And focusing on your immediate social network is more important than either diet or exercise programs when it comes to living a long, happy, healthy life. Happiness adds about eight years to your life expectancy; it's almost as good for you as quitting smoking."
In this issue, Live Happy shares scientifically proven methods to boost both happiness and health. Readers will learn to practice:

Gratitude to refocus the brain to start looking for what's good in life.
Compassion to counter the habit of dwelling on personal needs and challenges.
Savoring to increase appreciation for what's right in the moment.
Optimism to lower stress response, which leads to better overall health and happiness.
Mindfulness to stay present and limit anxiety from worrying about the future.
Giving Back to boost well-being for all evolved and to strengthen community bonds.
"This issue is unlike any we've ever done before," says Deborah K. Heisz, Live Happy's CEO, co-founder and editorial director. "It shares the key lessons of positive psychology research—as well as the latest tips, 'how-tos' and emerging science—in our largest, most comprehensive issue yet. The 'bookazine' format includes chapters relevant to every part of your life including happiness, health, resilience and happiness at work, school and at home."
Also in Live Happy issue No. 26:
Finding Joy Again: Three powerful stories of how to recover from loss and live happier now.
Includes five steps from Rick Hanson, Ph.D., to start the healing process.
Stronger Every Day: Maria Shriver's four guideposts to positivity from her new book, I've Been Thinking…Reflections, Prayers, and Meditations for a Meaningful Life.
Plus, can't miss interviews with TV celebs Annie Potts, Mario Lopez, Denise Austin.
Learn from Negative Emotions: Feelings of anxiety, guilt, anger, sadness arise for a reason.
Become a Happy Activist: Go to livehappy.com/happyacts to learn more about the global movement to make the world a happier place.
Positive Education: A case for prioritizing positivity, well-being and character strengths in our schools.
Plus, six ways to raise kinder kids.
Putting the 'Om' in Home: Author Rebecca West shares how rethinking home design can deliver joy and comfort.
Say goodbye to clutter with 20-plus creative ideas, including five-minute fixes.
Seven keys to healthy family relationships from licensed psychotherapist Stacy Kaiser.
_________________________________________________________________________________
Live Happy also goes beyond the pages with Live Happy Now, an inspiring free weekly audio podcast on iTunes that offers interviews with top researchers and experts in the fields of positive psychology and well-being. Readers can also visit LiveHappy.com and espanol.LiveHappy.com for even more information on finding and sharing happiness.
Live Happy is available on newsstands at major retailers throughout the U.S., including Barnes & Noble, Books-A-Million, Chapters Bookstores (Canada), Indigo Books, Safeway, Raley's Supermarkets, SavOn Foods, WalMart and HyVee Foods. Or go to store.livehappy.com for bulk or gift orders.
About Live Happy
Live Happy LLC, owned by veteran entrepreneur Jeff Olson, is a company dedicated to promoting and sharing authentic happiness through education, integrity, gratitude and community awareness. Headquartered in Dallas, Texas, its mission is to impact the world by bringing the happiness movement to a personal level and inspiring people to engage in purpose-driven, healthy, meaningful lives.
Media Inquiries:
Chris Libby
clibby@livehappy.com
(469) 754-9437
Donna Stokes
dstokes@livehappy.com
(469) 754-9436