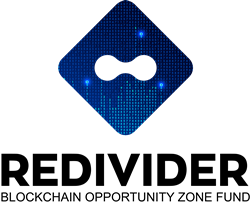 "The Redivider Blockchain model is the next generation turn-key solution for miners looking for USA hashrate with lower risks related to both jurisdiction and power source." – Thomas Frazier, Fund Manager.
SAN JOSE, Calif. (PRWEB) June 10, 2021
Introducing the Redivider Blockchain Opportunity Zone Fund ("Redivider"). The unprecedented demand in the digital asset sector – namely cryptocurrency – has resulted in scarcity of computing resources. Redivider is raising capital to invest the allocation into a qualified opportunity zone business ("QOZB") that will offer computing leases and hosting services to this underserved cryptocurrency mining industry and, to the extent permitted by the opportunity zone rules, up to 10% in other high yield securities or cryptocurrencies.
The QOZB will be tasked with (i) finding, acquiring and building multiple data center locations nationwide as well as, (ii) acquiring large inventories of specialized servers that process transactions and earn transaction fees. This enables the QOZB to lease out a fleet of computing nodes under management thereby generating streams of revenue from the hardware and low-rated electricity contracts.
"The Redivider Blockchain model is the next generation turn-key solution for miners looking for USA hashrate with lower risks related to both jurisdiction and power source." – Thomas Frazier, Fund Manager.
Moreover, Redivider will utilize the radical tax breaks attributed to opportunity zone businesses. Under the federal Opportunity Zone Program an investor can defer capital gains tax on realized gains if the gains are invested in a Qualified Opportunity Fund within 180 days of the sale. This presents a unique opportunity for investors in a range of sectors including real estate, corporate disposition and even cryptocurrency. With the recent political narratives and pending changes to capital gains taxation rules, the Redivider Blockchain Opportunity Zone Fund can offer several key benefits:
3 KEY BENEFITS
1. TEMPORARY DEFERRAL OF TAXES ON PREVIOUSLY EARNED CAPITAL GAINS.
Investors can place existing assets with accumulated capital gains into Qualified Opportunity Funds; as a result, the accumulated capital gains will not be subject to taxation until the end of 2026 or when the asset is disposed of whichever occurs first.
2. BASIS STEP-UP OF PREVIOUSLY EARNED CAPITAL GAINS INVESTED.
For capital gains held in Opportunity Funds for at least 5 years, investors' basis on the original investment increases by 10 percent.
3. PERMANENT EXCLUSION OF TAXABLE INCOME ON NEW GAINS.
For investments held for at least 10 years, investors pay no taxes on any capital gains produced through their investment into Qualified Opportunity Funds.
"It really is all about timing, job creation and opening more facilities throughout the USA. We firmly believe digital currencies and blockchains are the future and the Opportunity Zone program offers equally desirable benefits for our investors. By focusing on opportunity zones Redivider will help educate a new era of digital transformation in communities that need it the most." – Adam Greenberg, Fund Manager and former MLB player for the Chicago Cubs and the Miami Marlins.
The offering described herein will be made pursuant to a written confidential private placement memorandum. Interests in Redivider may be offered only by means of such written private placement memorandum. For more information please visit us online at https://www.redivider.fund.
This press release shall not constitute an offer to sell or the solicitation of an offer to buy any securities, nor shall there be any sales of securities in any state or jurisdiction in which such offer, solicitation or sale would be unlawful prior to registration or qualification under the securities laws of any such state or jurisdiction.
REDIVIDER BLOCKCHAIN OPPORTUNITY ZONE FUND LLC
Contact: Adam Greenberg
Email: info@redivider.fund
Phone: (844) 969-2882
Website: https://www.redivider.fund
The Fund is 3rd Party Administered by OZ Invested.
This press release contains forward-looking statements that are made pursuant to the safe harbor provisions within the meaning of Section 27A of the Securities Act of 1933, as amended, and Section 21E of the Securities Exchange Act of 1934, as amended. We caution you that such statements are simply predictions and actual events or results may differ materially. These statements reflect our current expectations, and we do not undertake to update or revise these forward looking statements, even if experience or future changes make it clear that any projected results expressed or implied in this or other statements will not be realized. Further, these statements involve risks and uncertainties, many of which are beyond our control, which could cause actual results to differ materially from the forward-looking statements. Statements related to, among other things, the consummation of the offering described herein and potential changes in market conditions constitute forward-looking statements. These risks and uncertainties, many of which are beyond our control, include: our plans to obtain funding for our operations, including funding necessary to develop, manufacture and commercialize our products and services; the impact to our business from the COVID-19 global crisis; general market acceptance of and demand for our products; and our commercialization, marketing and capabilities and strategy.