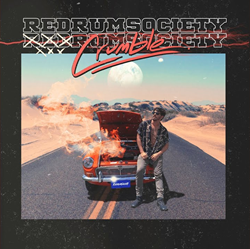 NEW YORK (PRWEB) February 19, 2020
RedrumSociety is a recording artist with a focus on blurring the lines between indie rock and alternative. The project is fronted by Zach Cohen, an artist, and songwriter who is dedicated to sharing powerful stories with his audience, setting the bar higher in terms of songwriting, production, and performance. His sound is a thought-provoking blend of influences, ranging from alternative rock to blues, post-grunge, and even elements of electronic music and avant-garde. Recently, the artist set out to release a brand new single titled "CRUMBLE", which is an in-depth and authentic look at the fleeting nature of relationships. Although we might find comfort in being with a loved one, it is not always easy to make things work out for the best, because people struggle with demons, sometimes hidden in the back of their minds and hearts. RedrumSociety also released a stunning official music video to the song. The video highlights the artist's ability to match up creative visual elements with his music, with iconic imagery such as Zach driving around on a classic car, performing instruments on rooftops, as well as exploring some characterful locations that remind listeners of the heart of American music. Like the roses dropped on the floor in the video, relationships might crumble and fall apart. However, we can all find the strength to move on and keep some hope alive. The song combines fresh sonic aesthetics with a very elaborate arrangements featuring a wealth of different sounds and musical instruments. Zach is not only a very intuitive songwriter, but a passionate vocalist and a versatile musician, who knows how to create some outstanding sounds to make his music stand out from anything else out there. "CRUMBLE" is a perfect calling card for him, and a great introduction to the sound and feel of RedrumSociety's musical style, influences and ideas. With such a focus on lyrics, sound, and energy, you can't go wrong.
"CRUMBLE" is quickly climbing the Top 25 chart on iTunes, as the project is receiving consistently growing media attention. Recently, RedRumSociety received an invitation to appear on CBS' 60 Minutes, one of the most groundbreaking shows in the history of American television.
Find out more about RedrumSociety and do not miss out on "CRUMBLE," which is now available online.