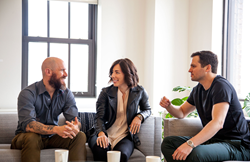 NEW YORK (PRWEB) May 16, 2019
Redscout has elevated three company veterans to lead the strategy and design consultancy. The announcement comes as the company prepares for its twentieth anniversary and the next decade of unlocking potential in brands and businesses.
Ivan Kayser, Marina Ammirato, and Michael Greenblatt have been named as Partners and will oversee Redscout's bicoastal offices in New York and Los Angeles. After modernizing the firm's offerings and driving impressive growth in the first quarter, the team will now share responsibility for managing client relationships, day-to-day operations, talent, culture and growth.
"This is an incredible moment for Redscout, because we sit in the sweet spot of what modern brand leaders are looking for – a team of creative, unbiased partners that can help them define the future," said Kayser. "Redscout was wired to thrive in this exact moment, and it's because we believe the most valuable modern skill is the ability to see potential; to see things - organizations, people, ideas - not for what they are but for what they could become."
The three new partners are being promoted following notable new business momentum in the first quarter, and a reframing of the business to show up in moments when clarity is needed and to inspire organizations to see their potential. In addition to working with a notable list of clients that includes American Eagle Outfitters, Best Buy, Casper, Herman Miller and Vice Media, Redscout recently partnered with Neiman Marcus to redefine the codes of luxury for the opening of the retailer's iconic first New York City store opening in Hudson Yards.
Prior to becoming Managing Partner, Kayser served as Redscout's Chief Strategy Officer. In 4+ years at Redscout, he has amassed deep experience with technology, media and consumer brands, and has led global innovation projects across clients like Google, ADP, Disney, and Peloton.
Ammirato becomes Partner, Growth after more than 13 years at Redscout, which includes working across both the strategy and client services teams and leading high-touch client relationships such as Kate Spade New York, PepsiCo and Uber. Most recently, she served as Head of Growth.
"At Redscout, we talk about collaboration as 'trenching together,' so it was very natural for us to come together as partners to chart the next phase of our growth," said Ammirato. "In doing so we've found renewed inspiration from each other, the amazing Scouts we work with, and our expansive client family."
Greenblatt has been named Partner, Creative and will continue to oversee creative, design and prototyping. Greenblatt joined Redscout more than two years ago as Head of Design. Late last year, Greenblatt's team partnered with Milk Bar to harness and focus the brand's legacy and equity as celebrated pastry chef Christina Tosi charts the next chapter of expansion for her dessert empire.
"We all come from a rich legacy of work and talent at Redscout, and that is what fuels how we think about the future impact we will create," said Greenblatt.
Redscout is a strategy and design consultancy. The firm prides itself on its Scouts, employees trained with a unique balance of empathy and conviction. Since 2000, Redscout has worked with visionary leaders to ask existential questions of organizations and push categories forward. Redscout is part of Yes and Company, an MDC Partners specialist network. Their client roster includes Airbnb, Best Buy, Casper, Kate Spade New York, Milk Bar, Neiman Marcus, Peloton, Uber, Vice Media. For more information, visit: http://www.redscout.com.