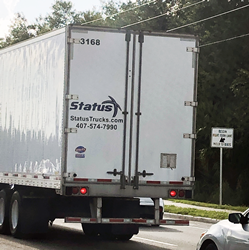 It all starts with becoming self-aware of the opportunity and consequently taking action to make improvements.
ORLANDO, Fla. (PRWEB) May 15, 2019
Status Transportation Corp., a leading ground freight and cargo services company for Owner Operators is celebrating the reduction in Level 1 inspections, following updates to its internal procedures and guidance for its fleet.
Level 1 inspections are never welcomed by Owner Operators, given that they are deeply thorough and taxing in their time—and its focus on both the commercial drivers and their vehicles.
Since 2016, Status Transportation has been actively working with its Owner Operators to ensure they collectively understand the opportunity to make their lives easier and their driving a more pleasant work experience.
And the hard work and collaboration has paid off with a reduction in Level 1 inspections during 2018 and the first quarter of 2019.
One of the most essential measures implemented by Status Transportation was the establishment of quarterly inspections, as well as setting up facilities to allow Owner Operators to take advantage of services that can reduce Level 1 inspections for at least three months at a time.
Case in point, Drivers enduring a Level 1 inspection are almost certain to be monitored for alcohol and drug use, as well as having to produce a medical examiner's certificate and Hours of Service (HOS) logs.
During Level 1 inspections their vehicles also undergo scrutiny that often includes a general inspection of vehicle systems—including brakes, steering, exhaust, turn signals, and head/tail lamps, among many others.
"Our Status Transportation team saw the opportunity to self-police our safety and we took it upon ourselves to implement company-wide policies to improve our scores," said John L. Statkus, President of Status Transportation. "It all starts with becoming self-aware of the opportunity and consequently taking action to make improvements."
Status Transportation realized that reducing Level 1 inspections could be influenced by implementing safety and driver guidelines that prompt a positive effect in other areas of the transportation. This included reducing the potential of accidents or safety issues that can add to a range of influencing factors tracked by the Federal Motor Carrier Safety Administration (FMCSA).
As an agency in the US Department of Transportation, FMCSA is tasked with developing federal safety regulations that ensure commercial transportation remains a safe and viable method of transporting goods in roads across the United States.
To effectively manage commercial transportation, FMCSA developed the Compliance, Safety, Accountability—known as CSA—as a program that monitors safety compliance, using data collected to determine the risk factor resulting from the actions of transportation companies and its drivers.
CSA scores are given to transportation companies that been deemed to have increased risk factors, mainly as a result of safety-related infractions—such as vehicular accidents and less-than-average scale station inspections.
With this in mind, FMCSA actively reviews and enforces such safety issues to prevent and ensure that cited commercial drivers and their employers take corrective actions to prevent future infractions.
"The year 2019 is big for us," added Statkus. "We are getting ready to celebrate our 10th anniversary and we are proud to look back and see that our company has chosen to be a leader that can foresee changes ahead—and the opportunity to become better at what we do, year after year."
Status Transportation knows that even if the CSA scores have improved, it is important to remain proactive and address future challenges at the first sign, which will ensure the success of Owner Operators, their safety and that of the American public which shares the nation's roads with them.
About Status Transportation
Status Transportation Corp. is a Florida-based trucking company that provides support for Owner Operator truck drivers, managing all aspects of freight dispatch and operations management. The company works to generate business for Owner Operators, ensuring a constant stream of business and revenue opportunities. Status Transportation has been operating since 2009 with offices in Orlando, FL, and Atlanta, GA.
For more information about Status Transportation, its services and career opportunities, please visit http://www.statustrucks.com.