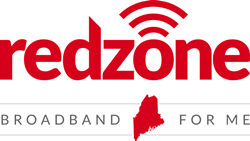 "Redzone continues to make steady progress in addressing Maine's broadband challenges, making Maine's highest rated broadband service more accessible and affordable," said Jim McKenna, Redzone President & CEO. Belfast area customers can qualify their location quickly at www.RedzoneWireless.com.
ROCKLAND, Maine (PRWEB) August 28, 2020
Redzone Wireless, LLC, a Maine-based broadband services company, announced the addition of a new fixed wireless broadband service site in Belfast Maine - bringing 25 Mbps broadband access to 2,500 new locations in Belfast and portions of neighboring communities.
Redzone's True Broadband service supports media streaming, business applications, remote education, video conferencing and online gaming simultaneously on multiple devices.
"We are grateful to Belfast and the surrounding communities for supporting this broadband service expansion," said Andrew Weeks, Redzone Sr. Vice President of Network and Operations. "I commend our network engineering and construction teams for successfully completing this expansion quickly, enabling us to now connect all residents requesting service on an immediate basis at qualified locations."
Redzone is Addressing Maine's Broadband Affordability Challenge
A 2019 Pew Research study found that 50% of non-broadband subscribers cited high prices as the primary reason they lack service. Affordability was reported as the barrier to broadband adoption twice as frequently as service availability. This is also supported by Q1 2020 research data published by BroadbandNow noting that 96% of all Maine households are unable to receive wired broadband service for less than $60/mo.
Recognizing cost as the primary factor limiting broadband access in Maine, Redzone is committed to providing the most affordable True 25 Mbps broadband service to as many Maine families as possible for $45 per month - at least 25% less than traditional wired providers. Interested customers can quickly qualify their location for service at the Redzone Wireless website http://www.redzonewireless.com.
"Redzone continues to make steady progress in addressing Maine's broadband challenges, making Maine's highest rated broadband service more accessible and affordable," said Jim McKenna, Redzone President & CEO. "Today, we're expanding the reach and capacity of our broadband network in an area where we've received strong residential service demand, and we anticipate further expansion to additional Maine communities in 2020."
Redzone is Delivering the Broadband Performance Maine Families Need
Redzone's 25 Mbps True Broadband service meets the United States guidelines for business and residential broadband speed as defined by the Federal Communications Commission (FCC).
The FCC standard is supported by a Princeton and University of Chicago study published in August 2019 by the Wall Street Journal confirming that speeds of 25 Mbps exceed residential broadband requirements.
Redzone Fixed Wireless Technology is a Rural Broadband Game Changer
Redzone is disrupting the conventional model for delivering broadband access via cable, wire or fiber by extending Maine's existing fiber optic infrastructure wirelessly. Redzone uses powerful Gigabit "backhaul" radios to connect clusters of towers to individual fiber optic circuits, and delivers broadband services to homes via LTE and 5G technology transmitted on FCC-licensed 2.5 GHz midband spectrum.
Redzone's unique approach reduces broadband network capital costs by 90%, and accelerates the delivery timeframe to a few months versus the multiple years commonly required to complete comparable fiber-to-the-home networks.
Media Contact:
Michael Forcillo
website: http://www.redzonewireless.com
email: PressMedia@redzonewireless.com
phone: 207-596-5700
Redzone Wireless, LLC, Maine's highest rated Internet Service Provider, is deploying an FCC licensed 4G LTE and 5G fixed wireless broadband network across Maine. The company's advanced network maximizes coverage and capacity by leveraging its exclusive channels of FCC licensed mid band spectrum at 2.5 GHz – effectively extending the reach of regional fiber optic networks to large geographic areas. Redzone's fixed wireless network provides an economically viable, and sustainable premium broadband Internet service alternative to DSL, fiber, or cable.