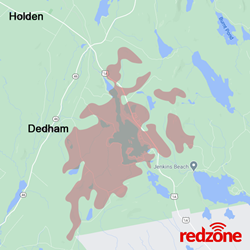 "Redzone identified an excellent opportunity to provide fast, reliable and most importantly, affordable broadband access to the Dedham community, " said Jim McKenna, Redzone Wireless President.
ROCKLAND, Maine (PRWEB) April 21, 2021
Redzone Wireless, LLC, a Maine-based broadband services company, announced the addition of a new fixed wireless broadband service site in Dedham - bringing broadband access to 2,800 new locations in Dedham, and northern portions of Ellsworth, Orland, and Bucksport.
Redzone's new broadband site is located on Bald Mountain in Dedham. The site was selected based on its elevation and proximity to hundreds of locations with inadequate and/or unaffordable broadband service options.
"Redzone identified an excellent opportunity to provide fast, reliable and most importantly, affordable broadband access to the Dedham community, " said Jim McKenna, Redzone Wireless President. "This is our first site in the Dedham area, and it enables us to provide much needed broadband to a community where we have received hundreds of requests for service. I commend our team for completing the project in less than 90 days," added McKenna.
Recognizing cost among the primary factors limiting broadband access in Maine, Redzone is committed to providing the most affordable True 25 Mbps broadband service to as many Maine families as possible for under $50 per month - at least 25% less than traditional wired alternatives.
Recent research published by BroadbandNow indicates that less than 5% of Maine households have access to broadband for less than $60/mo.
Interested Dedham area residents can quickly qualify their location for service at http://www.redzonewireless.com.
"Redzone continues to lean in on fixed wireless deployments on 2.5 GHz spectrum to address Maine's broadband deficit, expanding affordable access to Maine's highest customer-rated broadband service in more underserved areas," said Michael Forcillo, Redzone Executive Vice President. "A privately funded Maine broadband expansion success story like this demonstrates the essential role fixed wireless technology plays in closing the broadband affordability gap in the shortest possible time frame."
Redzone is Delivering the Broadband Performance Maine Families Need
Redzone's 25 Mbps True Broadband service, now accessible to over 350,000 Maine homes, meets the United States National Standard for residential broadband speed as defined by the Federal Communications Commission (FCC).
The FCC standard is supported by a Princeton and University of Chicago study published in August 2019 by the Wall Street Journal confirming that speeds of 25 Mbps exceed residential broadband requirements by a substantial margin.
Redzone Fixed Wireless Technology is a Rural Broadband Game Changer
Redzone is disrupting the conventional model for delivering broadband access via cable, wire or fiber by extending Maine's existing fiber optic infrastructure wirelessly. Redzone uses powerful Gigabit "backhaul" radios to connect clusters of towers to individual fiber optic circuits, and delivers broadband services to homes via LTE and 5G technology transmitted on FCC-licensed 2.5 GHz midband spectrum.
Redzone's unique approach reduces broadband network capital costs by 90%, and accelerates the delivery timeframe to a few months versus the multiple years commonly required to complete economically constrained fiber-to-the-home networks.
Media Contact:
Michael Forcillo
website: http://www.redzonewireless.com
email: PressMedia@redzonewireless.com
phone: 207-596-5700
About Redzone Wireless, LLC
Redzone Wireless, LLC has deployed, and is actively expanding an FCC licensed 4G LTE and 5G fixed wireless broadband network to deliver affordable access across Maine. The company's advanced network maximizes coverage and capacity by extending the reach of regional fiber optic networks to large geographic areas. Redzone's fixed wireless network provides a rapidly deployable, economically viable, and sustainable premium broadband Internet service alternative or complement to fiber, or cable.