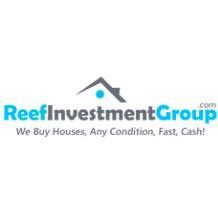 SAN DIEGO (PRWEB) October 12, 2018
Reef Investment Group, (http://www.reefinvestmentgroup.com) is buying San Diego County homes in under seven days. For homeowners that need a quick sale due to moving, downsizing, financial concerns, that are unable to repair their damaged home, or have inheriting unwanted property, a seven-or-fewer day sale is exactly what is needed.
"Reef Investment Group is an investment firm, not a real estate firm," says company co-owner Ryan Call. "Investors are in the business of making money, but also want the satisfaction of helping homeowners. Since an investment home buying company pays cash for property – without any contingencies like repairs, renovations, financing or commission, the homeowner doesn't have to go through the stress of using a Realtor. This can save time and money overall since the homeowner only needs to accept a fair cash offer to sell – in seven days or less."
The process is simple:

Describe the property to Reef Investment Group.
If the property meets the buying criteria, the homeowner is contacted to set up a brief appointment.
If the property continues to meet the criteria, a no-obligation cash offer is presented.
If the homeowner accepts the offer, the sale is finalized typically in a week or less.
To learn more about how fast Reef Investment Group can purchase your home, visit http://www.reefinvestmentgroup.com/how-we-buy-houses/ and http://reefinvestmentgroup.com/our-company today.
About Reef Investment Group
Reef Investment Group is a cash home buyer that provides fair all-cash offers for homes. Offers are made within 24 hours of contact. Sellers to Reef Investment Group can choose their own closing date, even if the house has rental tenants or is in terrible condition – all types of homes in any condition, and those with and without tenants can receive a cash offer. Repairs, renovations, and staging are not necessary. Reef wants homes as is in San Diego County, CA. This is the company to call when you want a fair cash offer, a quick sale, and no contingencies.
Contact Details:
Ryan Call
Carlsbad, CA
92008
Ph: (760) 888-6406
ryan@reefinvestmentgroup.com
Source: Reef Investment Group