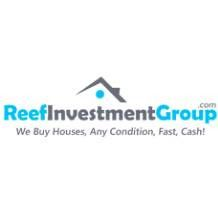 SAN DIEGO COUNTY, Calif. (PRWEB) December 12, 2018
Reef Investment Group, (http://www.reefinvestmentgroup.com), the home buying company in San Diego that provides competitive cash offers for as-is properties, is helping sellers that want to avoid using a Realtor.
"While there are advantages to using a Realtor," says company co-owner Ryan Call, "that method is not the right one for every home seller. Realtors prepare your home for the traditional sales market, and that means costly repairs, staging, and long wait times on the market. On top of that, Realtors take a commission, and that reduces homeowners' profits even further."
The Reef Investment Group method is to purchase the home, in cash, directly from the homeowner. The homeowner gets to move at their own pace and can request a fast closing or a later one to accommodate moving dates.
"With Reef, homeowners do not pay a commission, because we are home buyers, not Realtors," explains Call. "There is no waiting time for offers, and no reason to invest money the property owner does not have for fixing up the house. Reef Investment Group buys homes in San Diego as-is."
Homeowners in San Diego looking to avoid paying Realtor commissions while having to invest in costly home repairs should visit http://www.reefinvestmentgroup.com/how-we-buy-houses/ and reefinvestmentgroup.com/blog to get started.
About Reef Investment Group
Reef Investment Group is a cash home buyer that provides fair all-cash offers for homes. Offers are made within 24 hours of contact. Sellers to Reef Investment Group can choose their own closing date, even if the house has rental tenants or is in terrible condition – all types of homes in any condition, and those with and without tenants can receive a cash offer. Repairs, renovations, and staging are not necessary. Reef wants homes as is in San Diego County, CA. This is the company to call when you want a fair cash offer, a quick sale, and no contingencies.
Contact Details:
Ryan Call
Carlsbad, CA
92008
Ph: (760) 888-6406
ryan(at)reefinvestmentgroup.com
Source: Reef Investment Group