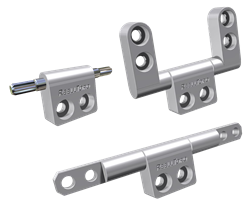 Dual-ended mounting creates more options for engineers to solve position control challenges and improve the user experience
ST. PAUL, Minn. (PRWEB) May 12, 2021
Reell Precision Manufacturing, a world leader in small package motion control, is proud to introduce its latest positioning innovation, the RT70 position hinge with dual-ended mounting attachment.
The RT Series of hinges incorporate unique engineering in a compact design to hold the angle of mounted components reliably in any position in especially small assemblies. The RT70 is ideally suited for demanding applications requiring 3.0 to 8.0 lb-in of holding torque. It is widely used in consumer electronics, mobile device and tablet stands, medical devices, and other industries where precise position control for components is necessary and critical.
The addition of dual-ended attachment enables a single hinge to be used in place of two in many applications, helping to reduce the cost and weight of an assembly and promoting quicker production with fewer parts to handle and install. Attachment is available in flag, straight and exposed knurled shaft configurations.
The RT70, like all RT Series hinges, utilizes ReellTorq® clip technology to deliver precise and consistent torque with a fully qualified life of 50,000 cycles, while providing the smoothest operating feel of any positioning solution on the market.
Global Product Line Manager Jim Brown is excited about the addition of dual-ended attachment option to the RT Series. "The RT70 is a key part of our portfolio. The addition of dual-ended mounting configurations to this popular line creates more options for design engineers to easily solve position control challenges and improve the user's experience."
Reell Precision Manufacturing provides high-quality innovative solutions to transmit torque, control angular position and protect delicate components from excessive force. Combining the world's most precisely controlled torque technology with the industry's most experienced engineering team guarantees a perfect product fit for customer applications. With facilities on three continents, Reell's responsive global customer service and world class manufacturing ensures exceptionally easy ordering and on-time delivery.