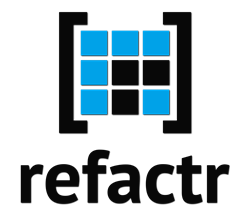 Refactr's DevSecOps platform helped fast tracked us getting started with Ansible and other DevOps tools to create security automation playbooks to help us operationalize our SOC." - Mark Alayev, Director of Service Delivery, RFA
ORLANDO, Fla. (PRWEB) October 31, 2019
Refactr announced today at ConnectWise IT Nation Connect 2019, the Refactr Platform. The Refactr Platform is a rebranding of Cloud + Security Architect Platform and adding in Refactr's playbook.cloud container sandboxing backend with a focus on providing an agile, radically simple DevSecOps automation platform to bring IT Teams into the world of IT as Code.
Despite accelerating advancements in cloud technology, most organizations are still behind on cloud adoption, primarily due to a shortage of expertise in software-defined solution development. DevOps tools are designed for developers, but most workloads are not being deployed as a part of an internal development pipeline. As a result, many deployment tasks are still being accomplished manually, causing many who attempt a shift to the cloud to forego its benefits by not taking advantage of modern automation techniques.
The Refactr Platform can be used by internal IT, security, and IT service providers teams to centralize, standardize, and modernize their delivery practices through IT as Code using the latest in infrastructure-as-code, configuration management, and security automation tools.
This announcement is a major milestone in the evolution of Refactr's collaborative, visually-focused DevSecOps platform that includes a solution catalog that enables vendors and IT teams to build their own IT as Code content and publish it out for use, leveraging existing DevSecOps tools like Terraform, Ansible, and others.
"There is a major shortage of DevOps Engineers and Cloud Architects. On top of that, most technology teams consist of those who work inside existing vendor's products live in the UI and aren't coding experts. We want technology teams to collaborate visually and while supporting existing DevSecOps tools to help technology teams to modernize their approach to building IT as Code solutions to stay competitive, and increase their profitability." - Michael Fraser, Co-Founder, Refactr.
Partner feedback has been vital to further enhance the user experience and power of the Refactr Platform. RFA, a mid-sized managed service provider out of New York City is one of those key feedback partners. "Refactr's DevSecOps platform helped fast tracked us getting started with Ansible and other DevOps tools to create security automation playbooks to help us operationalize our SOC, and their platform APIs made it easy to integrate with existing internal products." - Mark Alayev, Director of Service Delivery, RFA.
Refactr's new platform launch includes a set of new features as a result of in-depth user feedback from key partners, including:
Solution Catalog
Get started immediately by utilizing our catalog of turn-key solution pipelines which follow best practices and have been validated in production. If you're a solution provider, you can now publish your pipelines to the catalog to share them with others.
Drag and Drop and YAML Pipeline Builder
A powerful new designer interface combines our visual drag-and-drop pipeline builder with a native YAML text editor. The visual pipeline builder simplifies the process of creating industry-standard automation workflows, including modules for Azure® Resource Manager Templates, AWS® CloudFormation Stacks, Google® Deployment Manager Templates, Hashicorp Terraform, RedHat Ansible® Playbooks, HTTP Requests, PowerShell Scripts, Shell Scripts, and more. Seamlessly connect and launch these tools in the container sandboxing built right into the platform.
Jobs and Job Scheduler
Templatized job definitions enable users to pre-define pipeline runs, which can then be run manually, from the API, or on a schedule using our built-in job scheduler. This feature simplifies integration flows by allowing integrators to parameterize their solutions and to know whether an integration is using their published content.
Containers
Jobs now run in a full-featured, isolated container hosted securely in the cloud. This enables support for every automation tool imaginable, as well as native scripting and access to the operating system. Your job containers come preinstalled with all of our supported tools, and can be completely customized.
Git Integration
Already have automation scripts, playbooks or configurations? Reuse your existing IP by adding a git checkout step to your pipelines.
Access Control
A new user-based access control system allows users to invite others to view, edit, or manage their projects. This feature enables collaboration between teams and users internal and external.
API
A brand new RESTful API enables programmatic access to all aspects of the platform. 3rd-party integrators can now leverage the Refactr Platform to add powerful automation actions to their systems. Work is already underway with solution providers in the ChatOps and security automation spaces.
Projects
Organize solution pipelines into projects, keeping everything you need in one place. Share individual projects with collaborators, giving them exactly the level of access they need.
About Refactr
Refactr, a Seattle-based startup, was founded in 2017 by veteran and industry experts in cloud and cybersecurity. Refactr's mission is to accelerate the cultural shift toward modern DevOps workflows among security and IT teams by providing an all-in-one, highly usable, radically simple DevSecOps automation platform. Refactr takes a high-level pluggable approach to connecting DevSecOps tools together so that experts can build IT as Code solutions while collaborating with the spectrum of existing technical talent in their organization. Technology changes, people adapt, and at Refactr, we innovate to make the world more agile through the next shift of digital transformation into IT as Code.
To find out more about Refactr™, visit refactr.it or to get in touch with Refactr™ directly, by calling (866) 493-9367 or follow us on Twitter @refactrIT
About RFA
RFA is a unique IT, financial cloud and cyber-security provider to the financial services and alternative investment sectors. Headquartered in New York City and London (EMEA), RFA serves over 800 clients globally with additional facilities in Connecticut, New Jersey, Massachusetts, California and Luxembourg. RFA brings together a seasoned executive team and a committed group of over 200 highly skilled consultant technicians. RFA redefines the future of technological support through R&D, DevOps, automation and machine-learning, providing clients with tomorrow's edge, today. RFA offers bespoke solutions to clients that are system-agnostic, secure, transparent, best-in-class and supported by holistic advice and creates a customized strategy for each client to get business processes and workflows to run with greater speed, security, ease of use and outmost efficiency. For more information on RFA, please visit RFA.com.