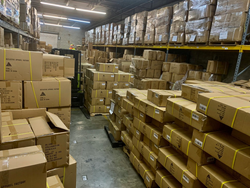 "We want our customers to know that we have inventory in stock to keep their workers safe, but we are urging customers to plan ahead, especially when it comes to custom orders."
ATLANTA (PRWEB) November 30, 2021
Reflective Apparel, a manufacturer of a complete line of high visibility apparel, has been boosting inventory in anticipation of global supply chain delays that may impact worker safety. Reflective Apparel has increased stock purchases more than 20 percent above average due to the global supply chain issues, with additional boosts in inventory expected in November and February 2022.
"Reflective Apparel has been watching supply chain issues very closely. Our demand planners are working to ensure that we continue to have stock come in so that both public and private organizations can keep workers safe with proper high visibility apparel," said Scott A. Corrao, president of Reflective Apparel. "We want our customers to know that we have inventory in stock to keep their workers safe, but we are urging customers to plan ahead, especially when it comes to custom orders."
Reflective Apparel reports that custom orders can now take upwards of five months instead of the standard 90 days.
"It is critical for organizations that require workers to wear reflective apparel to evaluate replacement timelines and make adjustments as needed to ensure there is not a gap in availability for replacing reflective gear before it becomes a safety risk," said Corrao. "The key is to be flexible. If you need winter coats now for your employees, you may have to skip a custom order that may not arrive in time for cold weather in favor of an in-stock item that can ship today. Some customers who are waiting on custom designed apparel have purchased vests to be worn over their existing winter wear until their product is received."
While consumer products are often the focus of current supply chain news reporting, a delay in high visibility apparel is a worker safety issue. While proper care prolongs the life of a reflective garment, reflective materials lose effectiveness over time. What might appear fine to a worker may, in fact, not be reflecting properly. This may cause decreased visibility, particularly in poor weather conditions. Without proper safety gear, workers in multiple industries are at-risk including firefighters, police officers, railroad workers, Department of Transportation employees, construction workers, and airport baggage handlers, among others.
Below are recommendations from Reflective Apparel on ways to extend the life of high visibility garments.

Do not wash reflective apparel with garments that have a rough finish, such as jeans.
Wash garments inside out.
Avoid fabric softeners, which damage reflective tape.
Line dry reflective apparel instead of putting it in the dryer.
If you do machine dry, remove the garment as soon as possible to avoid excess heat, which damages reflective tape.
Do not wash reflective garments with other dark garments, which may reduce the intensity of the fluorescent color.
Do not leave dirt on vests, which can diminish the intensity of the fluorescent color.
For updates on reflective apparel supply chain delays and product availability, follow Reflective Apparel on LinkedIn: https://www.linkedin.com/company/reflective-apparel-factory/. For more information about Reflective Apparel, visit http://www.reflectiveapparel.com.
ABOUT
Reflective Apparel manufacturers quality high visibility garments for public and private sector workers, including firefighters, police officers, railroad workers, Department of Transportation employees, construction workers and airport employees. Originally founded in 1989 to support the public safety market's need for nighttime reflectivity, Reflective Apparel was at the forefront of the American National Standards Institute (ANSI) Standard for High Visibility Safety Apparel, having pioneered many of the ANSI garment solutions found today. Reflective Apparel's warehouse and production facilities are located in Marietta, Georgia.