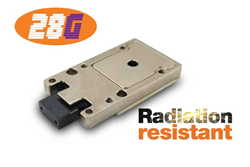 Once again, Reflex Photonics reaffirms its innovative approach and commitment to the space industry by supplying very high communication density devices in a very compact, rugged, and radiation resistant package.
KIRKLAND, Canada (PRWEB) September 12, 2018
Reflex is proud to announce the launch of a new line of radiation-resistant optical modules with a bandwidth of up to 28 Gbps per lane.
This line of optical modules consists of the SpaceABLE28™ transceiver and the SpaceCONEX28™ board-edge, active optical blind mate interconnect.
Radiation-resistant devices
Reflex Photonics' radiation-resistant or "Space-grade" transceivers are engineered to withstand radiation doses >100 krad as per the European Cooperation for Space Standardization ECSS-Q-ST-60-15C. The qualification program of the SpaceABLE28 includes the following protocols:

Heavy-ion test (Single Event Effect & Latch-up (SEE and SEL)).
Cobalt 60 electron source test (MIL-STD-883G, method 1019.7) Total Ionizing Dose (TID).
High and low energy protons test (Total Non-Ionizing Dose (TNID)).
The epitome of SWaP
The space community slowly evolves from an era of mega-projects and unlimited budgets to a dynamic commercial industry that can support multiple business.
One such endeavor envisions the deployment of complex satellite networks to deliver global Internet access. This project is made possible by more reliable, lower-consumption, smaller and more powerful computer and high-speed optical communication systems.
In this context, the advantages of Reflex Photonics' radiation-resistant line of 28G devices are quite obvious. The small, lightweight, high-bandwidth SpaceABLE28 parallel optical transceiver and SpaceCONEX28 interconnects offer extremely high aggregate data rates (over 100 Gbps, full duplex), with optical modules that are less than 1.5 cm3, weigh less than 5 g and consume less than 120 mW/lane. These two new devices complement our family of radiation-resistant optical devices, that includes our SpaceABLE 50G and SpaceABLE 150G, which have already been chosen to provide optical connection for new generation high throughput communication satellites.
Reflex Photonics' Product Manager, Guillaume Blanchette comments: "Once again, Reflex Photonics reaffirms its innovative approach and commitment to the space industry by supplying very high communication density devices in a very compact, rugged, and radiation resistant package. The SpaceABLE28, and SpaceCONEX28 use LGA mounting; this versatile electrical interface provides a solid screwable attachment to the host board and the interposer thickness is very flexible and can be adapted to fit numerous space applications. Reflex Photonics' parallel optical modules allow you to reduce the power consumption budget on your satellite board-to-board or payload-to-payload connectivity."