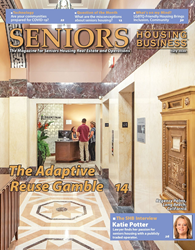 Our team is honored that Regency Palms Long Beach is being recognized in Seniors Housing Business magazine for being a unique '1920's gem' in Long Beach.
LONG BEACH, Calif. (PRWEB) July 21, 2020
National Seniors Housing operator Meridian Senior Living is pleased to announce that its community Regency Palms Long Beach Assisted Living and Memory Care (RPLB) has been featured in the national publication for Seniors Housing Real Estate and Operations, Seniors Housing Business magazine. RPLB is showcased on the front cover and cited in an article entitled, "The Adaptive Reuse Gamble" of the July 2020 edition of Seniors Housing Business.
"Our team is honored that Regency Palms Long Beach is being recognized in Seniors Housing Business magazine for being a unique '1920's gem' in Long Beach," expressed Glen Cummins Regional Director of Operations of Meridian Senior Living. "We are thrilled that our community offers such a beautiful environment rich in both history and high-quality resident care."
Donning the front cover, the striking art-deco designed lobby at RPLB offers a preview into the article's essence of outlining how select seniors housing developers across the nation are opting to take the more challenging avenue by restoring old buildings into more appealing products in lieu of embarking on new developments for some of their communities. Standing out from the standard construction of today's senior living facilities, RPLB's building is the product of a renovated 1929 pre-art deco, Moderne style building, listed on the National Register of Historic Places. Restoring such a unique building delivers its residents rich history immersed in the walkable neighborhood of downtown Long Beach with access to shopping, dining, and transportation to downtown Los Angeles.
Historically a medical office building and enduring a destructive earthquake in 1933, the RPLB building was restored by KTGY Architecture + Planning as a 102 assisted living and memory care facility for Global Premier Development. Since its completion in 2018, The RPLB building has been recognized with a 2019 Shaping Advancements in Generational Environments Gold Award in the category of Best 55+ Remodeled Project and a 2018 Seniors Housing News Award for Architecture and Design. The restoration of RPLB's building was so successful that it set an architectural precedent for subsequent projects in downtown Long Beach. KTGY designed the building's entrance to be filled with natural light and welcoming to the public, strengthening the connection of residents and the Long Beach community. The common areas feature pre-deco style elements that include vibrant patterns and multi-textured materials matched with exceptional craftsmanship.
Located at 117 E. 8th Street in Long Beach, CA, RPLB remains open and admitting new residents for move-ins. The building offers an ideal layout for social distancing as it offers seven floors of residential apartments with up to sixteen residents per floor with their own separate dining room. Outdoor activities are supported by its Sky-Lounge, a beautiful private rooftop deck, that includes panoramic views of Long Beach, fresh air, and opportunities for soaking up some vitamin-D. To learn more about RPLB, please call (562) 205-8110, visit the community website: regencypalmslongbeach.com, or visit the community Facebook page: @regencypalmslongbeach.
About Meridian Senior Living:
Meridian Senior Living, a privately held company based in Bethesda, Maryland, owns and operates seniors housing communities across the country and provides operational consulting to 24 communities in China. With more than 75 communities in 21 states and more in development, Meridian is one of the largest seniors housing operators in the U.S. The company prides itself on providing the highest quality care, exceptional lifestyle programming and a distinctive dining experience for its residents. For more information on Meridian Senior Living, visit meridiansenior.com.