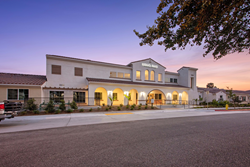 With such enthusiasm our team has been awaiting this momentous day to open both our doors and our arms in welcoming home new residents to our distinctive community,
OXNARD, Calif. (PRWEB) February 09, 2021
Regency Palms Oxnard Senior Living, a luxurious, newly-renovated senior living community in Oxnard, CA, has formally opened as marked by its grand opening on January 27, 2021. Located at 1020 Bismark Way in Oxnard, the 34,000 square foot community offers a total of 101-suite apartments ranging from cozy studios to luxury one-bedroom suites in a single-story.
In response to the demand for best-in-class senior living in the Ventura County area, Regency Palms Oxnard delivers compassionate assisted living services and an exceptional, distinctive dementia care program based on a Montessori methodology for seniors with Alzheimer's or other forms of dementia to their residents.
"With such enthusiasm our team has been awaiting this momentous day to open both our doors and our arms in welcoming home new residents to our distinctive community," stated Glen Cummins, Regional Director of Operations. "I'm confident that our team will both brighten and change the lives of seniors for the better by virtue of our vibrant community culture."
For February, Regency Palms Oxnard is now welcoming new residents with a Grand Opening Celebration Special. Residents who place a deposit by the end of the month will get a discounted move-in fee of $9, pay only $99 for April Rent, and receive $999 towards moving costs. Seniors and their families can learn the specific savings of this special by calling the community at (805) 342-2001.
In adhering to local Public Health Department guidelines for safety, our informal Grand Opening Event features virtual tours of this one-of-a-kind building. Stay tuned for their formal Grand Opening Event taking place early Summer 2021. Set in a quiet residential area, Regency Palms Oxnard is thoughtfully redesigned to include customized room designs. Each bright and spacious apartment is embellished with extra storage and features varied price points to accommodate different budgets. Each of the nine outdoor courtyards has a unique design to enrich outdoor recreation and community spaces boast vistas of beautifully landscaped outdoor areas. This amenity-rich building supports the community's focus on active living: daily engaging and social activities, a dining experience with multiple dining options and venues, as well as an exceptional level of care. All spaces of the building have been carefully appointed to accommodate the superior services and luxurious lifestyle residents at Regency Palms Oxnard deserve, at a price within reach.
Managed by national senior housing operator Meridian Senior Living, LLC, Regency Palms Oxnard offers daily social activities such as discussion groups, exercise classes, films, baking, gardening, music, and art; all led by a dedicated Life Engagement Coordinator. In addition to delivering compassionate care, Regency Palms Oxnard features Montessori Moments in Time™ memory care programming, Revolution in Motion exercise and mobility program, Music and Memory program, scheduled transportation to appointments and outings, housekeeping and laundry services, assistance with daily living and medication management, 24 hours / 7 days a week on-site care services, and more. As Regency Palms Oxnard's leadership team navigates the ongoing crisis, all community activities will be conducted in the safest possible manner while creating the best achievable environment where residents will thrive.
To learn more about Regency Palms Oxnard, visit regencypalmsoxnard.com or call (805) 342-2001.
About Meridian Senior Living:
Meridian Senior Living, a privately held company based in Bethesda, Maryland, owns and operates seniors housing communities across the country and provides operational consulting to 24 communities in China. With more than 75 communities in 21 states and more in development, Meridian is one of the largest seniors housing operators in the U.S. The company prides itself on providing the highest quality care, exceptional lifestyle programming and a distinctive dining experience for its residents. For more information on Meridian Senior Living, visit meridiansenior.com.