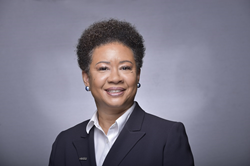 Regine is a recognized industry leader whose decades of work in both the public and private sectors will add significant value to clients and project teams
DETROIT (PRWEB) December 26, 2018
Regine Beauboeuf, PE, joined HNTB Corporation as vice president and program manager, bringing nearly 34 years of regional transportation and infrastructure experience to the firm's Michigan office. Based in Detroit, Beauboeuf will support key project pursuits and delivery across the region.
"Regine is a recognized industry leader whose decades of work in both the public and private sectors will add significant value to clients and project teams," said Eric Morris, PE, HNTB Michigan office leader and vice president. "Her insight into the design-build and public-private partnership delivery methods also promise to greatly benefit project owners seeking to maximize the value of limited transportation resources."
Beauboeuf's career began in the Michigan Department of Transportation's bridge design and project development sections, where she worked as supervising engineer on mega highway projects across the state. After leaving MDOT, she served in various leadership roles in the private sector, including managing the engineering program for the $4.4 billion Gordie Howe Bridge, serving as project manager for the $1.2 billion Turcot Interchange design-build project and the $485 million A-25 public-private partnership in Montreal, the first transportation P3 in the Province of Quebec. She also served as technical adviser to the Indiana Department of Transportation for the $2.5 billion Ohio River Bridges project.
Beauboeuf earned a bachelor's of architectural engineering at the National University of Haiti and an Master of Business Administration focused on strategic management and leadership at Davenport University.
She is president of the Michigan Chapter of the Conference of Minority Transportation Officials, and she is a past board member of the Michigan Chapter of the American Council of Engineering Consultants and the Michigan State Board of Professional Engineers. She also actively participates in The Renaissance (MI) of the Links, a nonprofit committed to enriching and sustaining African American communities.
Having served Michigan for more than 25 years, HNTB currently is working on, or has been involved with, some of the highest-profile projects in the state, including serving as prime design consultant on the I-75 MDOT Ambassador Gateway project; providing construction oversight services for the North Terminal redevelopment project at Detroit Metropolitan Airport; and serving as owner's representative for M-1 RAIL's QLINE, the first operating streetcar system in Detroit since 1956.
About HNTB
HNTB Corporation is an employee-owned infrastructure solutions firm serving public and private owners and contractors. Celebrating more than a century of service, HNTB understands the life cycle of infrastructure and addresses clients' most complex technical, financial and operational challenges. Professionals nationwide deliver a full range of infrastructure-related services, including award-winning planning, design, program delivery and construction management. For more information, visit http://www.hntb.com.