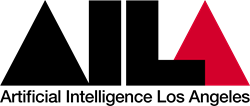 This is AI LA's inaugural symposium focused on creating a fair and ethical future.
PASADENA, Calif. (PRWEB) October 25, 2018
Artificial Intelligence Los Angeles (AI LA) launched their inaugural symposium today: A.I. and Society: Creating a Fair and Ethical Future at CTRL Collective.
The event is part of Innovate Pasadena's Connect Week to discuss artificial intelligence (A.I.) and its impact on humanity. With over one hundred executives, investors, researchers, engineers, designers, students, and government officials in attendance, the event explored questions about how best to integrate A.I. ethically into society at a time when the global debate on A.I. and data ethics is quickly escalating.
Phebe Vayanos, Associate Director of the Center for A.I. in Society at University of Southern California, opened the night by discussing how A.I. resulted in discriminatory housing policies, but also how A.I. algorithms can more fairly allocate housing to homeless youth.
K. Brent Venable, professor of Computer Science at Tulane University and Research Scientist at the Florida Institute for Human and Machine Cognition, discussed how safety constraints, moral values, and ethical principles be embedded in artificial agents, specifically via a novel computational model of ethical preferences.
Other speakers included Jeff Keltner (Upstart), Umang Bhatt (Carnegie Mellon University), Todd Terrazas (AI LA), Cansu Canca (A.I. Ethics Lab), Michael Howells (British Consul General in Los Angeles), Dr. Peter Fennell (Tala), and Wen Dombrowski (Catalaize).
Todd Terrazas, Founder/President of the AI LA community says "This is AI LA's inaugural symposium focused on creating a fair and ethical future, and is intended to be a piece of a larger conversation. A.I. will soon be an economic and social force as ubiquitous as the internet is today. AI LA believes we must spread awareness and education to a more general audience, instead of just the technical minded in LA and abroad."
British Consul General Michael Howells says "A.I. has transformative implications for every aspect of our lives. The U.K. is committed to harnessing this power whilst remaining conscientious of the ethical implications of A.I. We need to get both aspects rights if we are to build the public trust alongside the needed innovation."
About AI LA
Established in 2016, Artificial Intelligence Los Angeles (AI LA) is a community of over 2,200 members comprised of socially conscious academics and industry professionals. They explore the impacts artificial intelligence, machine learning, and other frontier technologies will have on humanity. Their members and partners collaborate to increase knowledge sharing, innovation, technological advancements, and economic development in the Greater Los Angeles area.
About Innovate Pasadena
Innovate Pasadena is a volunteer-driven 501(c)3 nonprofit organization dedicated to strengthening Pasadena's innovation community through education and resource exchange. We have built a strong network of businesses, academic institutions, and community organizations. We leverage these connections to produce and support a variety of programs that have reached over 60,000 people.
https://twitter.com/AILA_Community
https://www.facebook.com/AI.LAcommunity/
https://www.joinai.la/
#ConnectWeek2018 #Connect2018