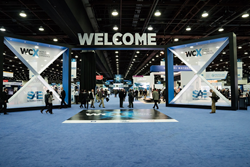 Presented by SAE International, WCX propels the mobility industry forward through a convergence of engineering, research, design and technology.
WARRENDALE, Pa. (PRWEB) October 23, 2018
SAE International announces that registration now is open for the WCX World Congress Experience 2019.
The future of mobility is constantly in motion, and nowhere is the spirit of innovation and exploration more evident than at WCX™ World Congress Experience. Presented by SAE International, WCX propels the mobility industry forward through a convergence of engineering, research, design and technology. It's where the brightest minds in mobility meet for three days of interactive learning, expert insight, collaboration and inspiration.
Highlights of the WCX 2019 will include:
Leadership Summit – The WCX Leadership Summit is an influential gathering of technology experts and industry executives, all driven to move business and technology forward and shape the future of mobility. In 2019, the Leadership Summit meets with the Tech Hub to bring pioneering thought and innovative ideas to a single forum for collaborative thinking.
Technical Program – With an emphasis on learning, WCX offers an educational program that appeals to all learning styles and tackles all the latest topics of interest to industry professionals, including:

Additive Manufacturing
Advancements in Materials and Lightweighting
Automotive Electronics
Body & Chassis
Connectivity
Design & Manufacturing
Environment & Emissions
EV and Fuel Cell Propulsion
ICE Powertrain
Industry 4.0
IoT & Blockchain
Occupant and Pedestrian Safety
Smart Cities
Structures
Sustainability
Thermal Management
Innovation in Motion: WCX 2019 Exhibition Floor – Experience an enhanced WCX 2019 Exhibition Floor, the nexus of new ideas, innovations, technology, products and services. A dynamic showcase of new and emerging developments, this is the focal point of the future of business and technology – the home of the Leadership Summit, Keynote Sessions, Learning Lab and Knowledge Bar. And it's where specialized pavilions – Connect2Car and Lightweighting and Materials – take new technology to the next level with a focus on the very latest in innovation.
For more information or to register for SAE International's WCX 2019, visit http://www.sae.org/wcx
Journalists and other members of the media seeking credentials should email pr@sae.org or call 1-724-772-8522.
About SAE International
SAE International is a global association committed to being the ultimate knowledge source for the engineering profession. By uniting over 127,000 engineers and technical experts, we drive knowledge and expertise across a broad spectrum of industries. We act on two priorities: encouraging a lifetime of learning for mobility engineering professionals and setting the standards for industry engineering. We strive for a better world through the work of our philanthropic SAE Foundation, including programs like A World in Motion® and the Collegiate Design Series™.