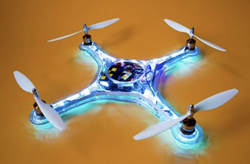 The Drone Racing Summer Bootcamp Program is an elite opportunity for students in grade 9 through 12 to receive a week of individualized professional training in a program customized specifically to develop skills, knowledge and experience to compete at the highest levels.
GENEVA, Ohio (PRWEB) May 19, 2020
SPIRE Academy, a collaboration between Spire IA (Institute/Academy) and the Museum of Future Sports, is pleased to announce that registration is now open for both on-campus and remote distance-learning Drone Racing Summer Bootcamp sessions in June and July.
Two separate weekly programs are offered: On-site boarding or non-boarding camp sessions take place on the campus of SPIRE Academy, a premier co-ed sports training facility near Lake Erie in Geneva, Ohio, and online distance-learning sessions are attended remotely by campers in their own homes via streaming technology, including one-on-one teleconferencing, multiplayer PC drone simulators and a real FPV drone kit delivered to each camper.
Each day, campers in both sessions will spend several hours flying and racing in a professional drone sports experience and working one-on-one with professional pilots on a variety of drone racing skills and challenges. Individual pilot's skills are measured and tracked throughout to ensure each camper gets a personalized pilot coaching and training experience. Flight practice is combined with engineering, programming, bench work and virtual presentations from visiting pro drone pilots.
"Drone Racing has quickly grown into a professional sport, with global leagues, large prize pools and pro contracts for the best pilots," says Marque Cornblatt, Future Sports founder. "Competing at the highest level requires unique skills, training, coaching, drills and practices. The Drone Racing Summer Bootcamp Program is an elite opportunity for students in grade 9 through 12 to receive a week of individualized professional training in a program customized specifically to develop skills, knowledge and experience to compete at the highest levels."
Each student receives a complete mini drone racing package to keep, including their own FPV quadcopter, radio controller, video goggles, batteries and spare parts.
Students will train on a wide range of drone platforms, including mini-scale racing drones and PC-based drone racing simulators. Every program includes one-on-one personalized training and coaching sessions, as well as team-based racing and competitions.
Campers also attend additional daily programming focused on pro athlete coaching in PR, social media management and career counseling. Campers will have plenty of time to relax, play games and socialize with other campers both online and on SPIRE's huge sports and recreation campus.
The last day of each weekly session features a final drone race competition and award ceremony.
Beginning Fall 2020, Spire Academy will offer a co-ed 9th-12th grade college prep boarding and daily high school program with an innovative curriculum delivery model featuring 4 hours per day of esports and robotics curriculum, and traditional academics the remaining 4.5 hours of the day. This program provides each student with the experience, knowledge and toolset to pursue a professional career in technology, robotics and engineering through project-based, hands-on curriculum.
On-campus sessions and online sessions run June 14th - 20th, 21st - 27th, July 12th -18th and 19th - 25th.
Join us for a Virtual Admissions Event with Marque Cornblatt and Douglas Burnet, SPIRE Co-Directors of Future Sports and Rob Skinnion, SPIRE Director of Esports, on Tuesday, May 19 at noon ET. REGISTER HERE.
For more information visit http://www.spireinstitute.org/camps or contact Len Spacek at 216-509-3579.
About SPIRE
SPIRE Institute & Academy (IA) (http://www.spireinstitute.org) is one of the largest indoor, professional training and competition complexes in the world. With more than 750,000 sq. ft. under roof and a campus of 175 acres, SPIRE has the unique capacity to simultaneously host a world-renowned sports academy, clubs, leagues, tournaments and championship events, no matter the weather or the season.
SPIRE Academy and its expert coaches, teachers and performance trainers offer residential camp and academy training programs in basketball, track and field, swimming and now in esports and drone/robotic/AI/emerging tech as well. The comprehensive mix of professional level training integrates athletics and academics, skills training and performance training and personal and career development in ways that have never been done before. High school and post grad athletes on one campus, pursuing specialty passions ranging from basketball to e-gaming, swimming to drone racing, pole vaulting or sprinting to future opportunities like culinary or cultural arts…is a career development experience that you just won't find anywhere else in the world today.
SPIRE Institute is the epitome of a 'real world lab' for professional, technical and health and wellness research. Like never before, student trainees and elite athletes will have the chance to train, study and be studied side-by-side with weekend warriors, wounded Veterans, Paralympians, Olympians and Special Olympians, as well as juniors, collegians and adults of all ages and ability levels. SPIRE is truly a melting pot of all things relative to long-term training and education development, and all of this delivered within a fun, healthy and inspiring environment. The "SPIRE Way'' focuses on the development of the whole self – building strong minds, strong bodies and strong character.