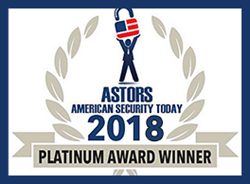 High client satisfaction rates, improved message throughput, and a reliable delivery success rate during the 2017 Hurricane Season were also key to demonstrating Regroup's unique contributions to improving homeland security
SAN FRANCISCO (PRWEB) November 15, 2018
Mass notification company, Regroup, today announced it has been named a Platinum Award Winner by American Security Today. Regroup was recognized as the 2018 Best Mass Notification System for its outstanding efforts in emergency communication and innovative solutions in the field of mass notification.
The ASTORS Awards are given to service providers in the public or private sector that have done the most to improve national safety and resiliency. Regroup took the award for its recent innovations in mobile messaging, ease-of-use, and a proven commitment to keeping people safe when it matters most. Other top finalists included: Send Word Now by OnSolve, Rave, AlertMedia and more.
High client satisfaction rates, improved message throughput, and a reliable delivery success rate during the 2017 Hurricane Season were also key to demonstrating Regroup's unique contributions to improving homeland security.
"We are honored to be recognized by American Security Today as a company that contributes to making the United States a safer and more resilient nation," said Chris Utah, COO of Regroup. "A reliable communication system is vital to practically every industry and sector, and we will continue innovating to provide the best platform for sending critical alerts as well as important, routine communications."
The winners were announced at the 2018 'ASTORS' Homeland Awards Luncheon at ISC East in the Jacob Javits Convention Center in New York on Nov. 14, 2018.
For a live demo of Regroup's award-winning emergency and day-to-day notification system, visit http://www.regroup.com/demo
ABOUT REGROUP MASS NOTIFICATION
Regroup Mass Notification empowers better mass communication that keeps people safe and informed at all times. The company's award-winning, cloud-based mass communication platform is what clients across North America and around the globe rely on to send both emergency and day-to-day communications to millions of people. By enabling one-click messaging to mobile devices, landlines, social media, email, websites, and more, Regroup Mass Notification helps organizations keep people safe, strengthen operational resilience, mitigate risk, and thrive in an increasingly unpredictable world.