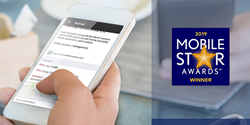 The application's ability to deliver notifications, even when cell towers are down or overloaded, set Regroup apart from competitors
SAN FRANCISCO (PRWEB) October 15, 2019
Regroup Mass Notification, trusted provider of emergency and day-to-day mass notification solutions, today announced that its mobile application, AlertMe, has won the 2019 Mobile Star Awards™ Superstar award in the "Innovative Mobile Mass Notification & Response" category. The Mobile Star Awards™ program is hosted by the mobile events and news site MobileVillage.
Regroup's robust mobile application for recipients, AlertMe, has been named as a Superstar winner in the categories of Innovative Mobile Emergency Alerts & Response as well as Innovative Mobile Mass Notification & Response for the last two years.
AlertMe received high praise for allowing Regroup clients to easily deliver push notifications when it matters the most. The application's ability to deliver notifications, even when cell towers are down or overloaded, set Regroup apart from competitors. Additional features such as geofencing capabilities and the app's easy-to-use interface were key factors that made Regroup a clear winner.
Since 2001, the Mobile Star Awards program has showcased the best and most innovative consumer and business mobile apps, mobile devices, mobile technology companies, and success stories. Nominees and winners are chosen by the mobile-savvy followers of MobileVillage.com.
"Winning a Mobile Star Award is an accomplishment that's recognized by the entire mobile industry, as well as customers and buyers," says MobileVillage Founder and CEO Jon Covington. "Mobile Star Awards Winners truly shine among millions of other mobile products as the greatest stars out there."
A complete list with recent 2019 winners and new fall program nominees are listed on MobileVillage.com at http://www.mobilevillage.com/mobile-star-awards.
About Regroup:
Regroup Mass NotificationⓇ empowers better mass communication that keeps people safe and informed at all times. The company's award-winning, cloud-based mass communication platform is what clients across North America and around the globe rely on to send both emergency and day-to-day communications to millions of people. By enabling one-click messaging to mobile devices, landlines, social media, email, websites and more, Regroup Mass Notification helps organizations keep people safe, strengthen operational resilience, mitigate risk, and thrive in an increasingly unpredictable world.
About MobileVillage / PDA Inc.
Since its founding in 1993 as PDA Inc., MobileVillage® has led in promoting innovative, user-focused mobile technology around the world. The company fosters mobile alliances, product development and excitement through its popular Mobile Star Awards™ program, the world's most extensive mobile events calendar, directory, feature stories, event partnerships and consulting.