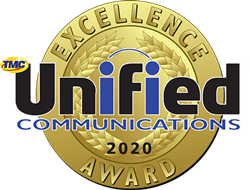 Regroup was among a selected group of winners, including companies such as Ring Central, Avaya and Zoom.
DALLAS (PRWEB) January 05, 2021
Regroup Mass Notification, a trusted provider of emergency and day-to-day communication solutions, today announced that it has been chosen by TMC as a winner of the 2020 Unified Communications Product of the Year Award.
The award is given to a select group of nominees who have demonstrated the most innovative products and solutions in unifying communications over the past 12 months. Regroup was among a selected group of winners, including companies such as Ring Central, Avaya and Zoom.
For a third consecutive year, Regroup was ranked together with globally recognized telecom and communication brands for its continued work on developing the best mass notification solution on the market. Advanced features such as geo-targeting, strong API capabilities, and native mobile apps, make Regroup a clear winner in the award program. Additionally, Regroup has demonstrated continuous improvement and commitment to keeping people safe and informed during these uncertain times with features such as active COVID-19 Mapping capabilities.
"This was a challenging year for everyone. We are so pleased to have been able to serve our clients with communication tools that helped them navigate 2020," said Chris Utah, COO, Regroup Mass Notification. "Being recognized for this work is a real honor, and we are very grateful."
Winners of the 2020 Unified Communications Product of the Year Award can be found online in Internet Telephony magazine.
About Regroup:
Regroup Mass Notification empowers better mass communication that keeps people safe and informed at all times. The company's award-winning, cloud-based mass communication platform is what clients across North America and around the globe rely on to send both emergency and day-to-day communications to millions of people. By enabling one-click messaging to mobile devices, landlines, social media, email, websites, and more, Regroup Mass Notification helps organizations keep people safe, strengthen operational resilience, mitigate risk, and thrive in an increasingly unpredictable world.
About INTERNET TELEPHONY magazine
INTERNET TELEPHONY magazine has been the IP Communications Authority since 1998™. Beginning with the first issue in February of 1998, INTERNET TELEPHONY has been providing unbiased views of the complicated converged communications space. INTERNET TELEPHONY offers rich content from solutions-focused editorial content to reviews on products and services from TMC Labs. For more information, please visit http://www.itmag.com.
About TMC
Through education, industry news, live events and social influence, global buyers rely on TMC's content-driven marketplaces to make purchase decisions and navigate markets. As a result, leading technology vendors turn to TMC for unparalleled branding, thought leadership and lead generation opportunities. Our in-person and online events deliver unmatched visibility and sales prospects for all recipients. Through our custom lead generation programs, we provide clients with an ongoing stream of leads that turn into sales opportunities and build databases. Additionally, we bolster brand reputations with the millions of impressions from display advertising on our news sites and newsletters. Making TMC a 360 degree marketing solution, we offer comprehensive event and road show management services and custom content creation with expertly ghost-crafted blogs, press releases, articles and marketing collateral to help with SEO, branding, and overall marketing efforts. For more information about TMC and to learn how we can help you reach your marketing goals, please visit http://www.tmcnet.com and follow us on Facebook, LinkedIn and Twitter, @tmcnet.