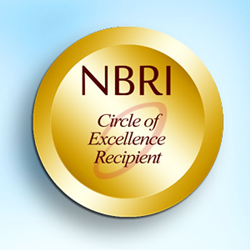 "This award is a result of Reinvent Telecom's dedication to measuring and improving their customer engagement."
SCOTTSDALE, Ariz. (PRWEB) January 30, 2020
Reinvent Telecom, a provider of a private-label unified communications and contact center as a service solutions, has been awarded the NBRI Circle of Excellence Award by the National Business Research Institute.
The NBRI Circle of Excellence Award recognizes organizations that place a high value on employee and customer engagement. These organizations demonstrate their dedication by conducting best-in-class survey research with NBRI and taking action based upon the results. NBRI commends the leadership of these organizations for their commitment to the Continuous Improvement Process and recognizes their achievements with the Circle of Excellence Award.
"This award is a result of Reinvent Telecom's dedication to measuring and improving their customer engagement, which drives financial performance," said Dr. Jan G. West, Ph.D., CEO and Organizational Psychologist at NBRI.
To qualify for this honor, an organization must score at or above Stretch Performance at the 75th benchmarking percentile when measured against their industry, or it must improve a statistically significant amount -- 5 or more benchmarking percentiles -- in total company score over the previous research study.
"It's no small feat to move an entire company's score of customer loyalty or employee engagement 5 or more percentiles, or to reach Stretch or Best-in-Class Performance levels," said Dr. West.
"Reinvent is honored to be recognized by NBRI with the Circle of Excellence Award," said Ray Napoletano, Vice President of Sales at Reinvent Telecom. "We're committed to being a customer-first organization and thank our entire team for delivering on that core value every day. We'll endeavor to exceed this high standard in 2020 and beyond."
About NBRI
NBRI conducts Employee, Customer, and Market Research for businesses, and uses this data to help organizations leverage these human factors to make improvements to operations and strategy. With its extensive experience across all industries, NBRI's research teams bring their clients a combination of deep industry knowledge and expert advice. NBRI's mission is to help their Clients set new standards of excellence in their industries. NBRI product offerings, such as the Root Cause Analysis, ensures their clients will focus on the most impactful issues.
About Reinvent Telecom
Reinvent Telecom, a division of Saddleback Communications, operates a private-label communications platform that empowers its wholesale partners to transform their businesses into next-generation cloud-based communications service providers. Reinvent enables its wholesale partners to deliver reliable, high-quality Unified Communications as a Service (UCaaS), Conferencing & Collaboration, Contact Center as a Service (CCaaS) and SIP trunking services. Reinvent's solutions are all built on the proven platform from Metaswitch, a global leader in communications network software technology, and backed by Saddleback Communications, a stable, profitable Incumbent Local Exchange Carrier and a wholly owned enterprise of the Salt River Pima-Maricopa Indian Community (SRPMIC). Reinvent's powerful turnkey solution is managed from quote to compensation through its proprietary Reinvent Partner Portal (RPP), enabling its wholesale partners to generate revenue quickly and build a successful cloud voice business while keeping full ownership and control of their customers. For more information, visit us http://www.reinventtelecom.com or call 855.455.7346.
Media Contacts:
Phenecia Padilla
Marketing Assistant
Reinvent Telecom
480.362.7090
ppadilla@reinventtelecom.com
National Business Research Institute Inc.
972.612.5070