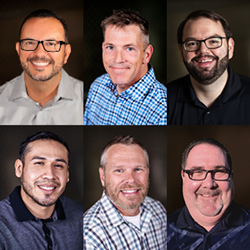 "We've added and promoted talent across the board to keep up with the incredible growth in demand from our reseller partners."
SCOTTSDALE, Ariz. (PRWEB) March 06, 2020
Reinvent Telecom, a provider of a private-label unified communications and contact center as a service solutions, has strengthened its wholesale service delivery team with the addition of four new specialists and the promotion of two others to expanded roles.
Reinvent's new team members include:
Doug Moyer, Channel Manager: Moyer, a 30-year veteran of telecom and the channel, oversees partner recruitment and enablement in the Eastern region for Reinvent. He spent the last decade in telecom channel sales roles. Most recently, he was a Channel Account Manager at CoreDial. Previously, he spent 5 years as Channel Account Manager at Digium and 12 years as Regional Sales Manager – Northeast U.S. for Toshiba.
Jeff Kramarczyk, Product Manager: Kramarczyk, a 20-year veteran of the telecom industry, is responsible for product management across Reinvent's suite of white-label cloud communications services. He joins Reinvent after more than 15 years of experience in product management for several companies, including Fairpoint Communications, Windstream and McLeod USA.
William Tucker, VoIP Engineer I: Tucker brings extensive industry experience and troubleshooting skills to his new role where he supports partners and their clients with provisioning and technical support as part of Reinvent's NOC team. Previously, he spent 15 years with CenturyLink (and predecessors Global Crossing and Level 3). Most recently he was an IP Tech 3 working in Managed Services Activations for the company.
Nicholas Makil, LNP Specialist: Makil, a member of the Salt River Pima-Maricopa Indian Community (SRPMIC) where Reinvent is based, joined the company from Casino Arizona, a sister SRPMIC Community Enterprise. As a Local Number Portability (LNP) Specialist, Makil directly supports Reinvent's number porting department.
In addition, Reinvent has promoted two longtime team members:

Shawn Crespo, Product Specialist: After a decade in various roles at Reinvent, Crespo has been promoted from Partner Success Manager to Product Specialist. In his new position, Crespo is responsible for product launches, strategy and coordination internally as well as training partners on products and services.
Chris Tucker, Director of Network Management: Over the past three years, Tucker has been an instrumental in improving Reinvent's Network Operations Center (NOC) services and network reliability. Tucker has been promoted from Manager of Network Operations to Director of Network Management. In his new role, Tucker will manage the new Network Management Center (NMC) which has replaced Reinvent's NOC.
"We've added and promoted talent across the board to keep up with the incredible growth in demand from our reseller partners," said David Ansehl, Director of Wholesale Channel at Reinvent. "Their product, operational and technical expertise are key to exceeding the high bar we've set for supporting our partners and their business customers."
About Reinvent Telecom
Reinvent Telecom, a division of Saddleback Communications, operates a private-label communications platform that empowers its wholesale partners to transform their businesses into next-generation cloud-based communications service providers. Reinvent enables its wholesale partners to deliver reliable, high-quality Unified Communications as a Service (UCaaS), Conferencing & Collaboration, Contact Center as a Service (CCaaS) and SIP trunking services. Reinvent's solutions are all built on the proven platform from Metaswitch, a global leader in communications network software technology, and backed by Saddleback Communications, a stable, profitable Incumbent Local Exchange Carrier and a wholly owned enterprise of the Salt River Pima-Maricopa Indian Community (SRPMIC). Reinvent's powerful turnkey solution is managed from quote to compensation through its proprietary Reinvent Partner Portal (RPP), enabling its wholesale partners to generate revenue quickly and build a successful cloud voice business while keeping full ownership and control of their customers. For more information, visit us http://www.reinventtelecom.com or call 855.455.7346.