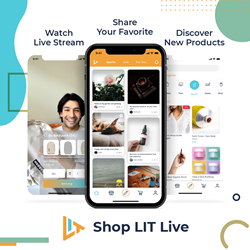 "Our vision is to bring back the joy of 'window shopping' in its truest form to consumers..."
SAN FRANCISCO (PRWEB) October 13, 2020
If quarantine has taught us anything, it's that we all miss human interactions more than we thought we would, and shopping is no exception. There's a new app on the market that will help fix that problem - LIT Live is bringing that interpersonal element back to the shopping experience, by providing a fun way for consumers and influencers to engage with each other and discover unique products in real time.
The App - now available on the App Store and Google Play - connects brands to live audiences through expert influencers. Through live streaming, users can participate in product unboxings, see product demos and understand the brand story. Influencers add their personal experiences and help answer any questions that consumers may have about the brand and its products. Users also interact with each other to create a community of trust and advice. The seamless native check-out experience through multiple touch points within the app helps to enhance sales conversion. The platform also provides influencers a sustainable business model through a share of sales revenue while enabling them to thrive creatively.
Recent studies on consumer behavior have shown that shoppers want to be influenced, with a staggering 80% of young consumers being influenced to purchase via social media, and 78% of brands loosely considering influencer marketing but aren't entirely sure where or how to start. LIT Live founder Toby Zhang saw the opportunity to bridge the gap between new consumer desires and business needs. An early investor in Musical.ly, which later evolved into the booming social platform TikTok, Zhang witnessed firsthand what social media had the potential to offer consumer brands and was quick to take action.
"Our vision is to bring back the joy of 'window shopping' in its truest form to consumers, something that's largely forgotten in today's ads driven e-commerce industry. Users can log onto our App daily and join live-shopping events where exclusive new products and brands are introduced. Our users discover brands and products through personalized content and are inspired by the shopping experiences shared by other users." - Toby Zhang
In 2019, Social Commerce Sales (SCS) in Asia saw a market worth $2 trillion dollars, and this year the United States is projected to reach $30 billion in SCS with the access to this market being virtually untapped. LIT Live's platform has discovered the algorithm and content needed to increase those numbers astronomically.
The platform hopes to reinvent discovery by reviving the joy of communal shopping and enabling brands to connect with consumers in a new and more immersive fashion.
ABOUT LIT LIVE
LIT Live is a social media-powered shopping app and web platform bringing back the personal connection behind the consumer shopping experience. While in the midst of a global pandemic where the world has relied on virtual experiences to keep some remnants of a connection alive, the rise in online shopping comes at no surprise. And while the Internet has surely helped us stay on top of our shopping needs, in a way it's made us reminisce and miss the fun of window shopping with friends. LIT Live is taking that nostalgia of walking around a store or the mall and making it virtual.
ABOUT TOBY ZHANG
Toby was a partner at CRCM Ventures, leading the firm's investments in consumer and emerging technologies. At CRCM, Toby helped to grow the VC business in 2 geographies across 4 offices, and launched 4 early stage funds. During his tenure, his successful investments include Musical.ly (now Tiktok), Ripple, Ginkgo Bioworks, Firework, Wink, Itui, Drone Racing League, This is L, Agora.io (Nasdaq: API) and more. In 2016 he was voted Forbes VC 30 under 30. Prior to CRCM, He was a venture investor at Edison Partners in 2014 leading investments in enterprise solutions. Prior to Edison, Toby led a cross-organizational development team at Microsoft building the 1st generation Microsoft Surface. Toby holds an MBA from The Wharton School at the University of Pennsylvania and a Masters in Engineering from the University of Michigan at Ann Arbor.
For more information about Toby Zhang, LIT Live, and the latest news in social consumer sales, please contact:
Kerry Petrocelli
631-258-1555
Kerry@victorypublicrelations.com