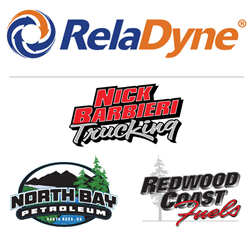 "Going forward as one team, RelaDyne and the associates of Nick Barbieri Trucking will be one of the largest commercial fuel and lubricant distributors with a broad service offering to its present and future customers in California and surrounding states."
CINCINNATI (PRWEB) September 10, 2020
RelaDyne, one of the nation's leading providers of lubricants, fuel, diesel exhaust fluid (DEF), and industrial reliability services has acquired Nick Barbieri Trucking, LLC a full-service oil, lubricant, gasoline and diesel fuel distributor, and card lock operator serving the Northern California market.
Founded in 1994 in Santa Rosa, CA, Nick Barbieri Trucking has grown considerably since its humble beginnings by providing unmatched customer service and making several acquisitions to strengthen its market position in Northern California. This acquisition will expand the RelaDyne footprint into California and strengthen its Western region operations.
"One of my objectives was to find an organization prepared to continue to develop the reputation and local talent base that we have built through three generations since 1951," said Nick Barbieri, Owner and Managing Partner of Nick Barbieri Trucking. "Our family has been privileged to serve the northern California energy market starting with my grandfather Peter Barbieri, my father Bob, and now myself. Partnering with RelaDyne, we will keep customer service as our number one priority, and our operations will be able to continue to grow by providing even more products and services to our loyal customers to continue to uphold our family legacy." The Barbieri family was advised by The Joseph Hale Company of Houston, Texas.
"The acquisition of Nick Barbieri Trucking is an exciting entry into California for RelaDyne," stated Larry Stoddard, President and CEO of RelaDyne. "We are thrilled to welcome Nick, the management team, and all associates to the RelaDyne family! We will immediately be able to offer the Nick Barbieri Trucking customer base new products and services to expand the RelaDyne footprint."
RelaDyne continues to be the "Acquirer of Choice" in the lubricants, fuel, and reliability services industry. "Our partnership with Nick Barbieri Trucking is the first strategic step as we execute on our West Coast expansion strategy and continue to build a national footprint, border-to-border and coast-to-coast. This is a powerful combination that will fuel future growth, leveraging the company's heritage and unique geographic footprint with RelaDyne's scale and unmatched service offerings," said David Schumacher, RelaDyne VP of Business Development. "Going forward as one team, RelaDyne and the associates of Nick Barbieri Trucking will be one of the largest commercial fuel and lubricant distributors with a broad service offering to its present and future customers in California and surrounding states."
About Nick Barbieri Trucking
Nick Barbieri Trucking was founded in 1994 by Nick Barbieri, specializing in the transportation of bulk products including fuel. In 2008, Nick Barbieri purchased the Ukiah commercial fuel operations of his father's business, Redwood Coast Petroleum, operating it as Redwood Coast Fuels. In 2011, he started North Bay Petroleum to expand into Santa Rosa.
Since its original formation, Nick Barbieri and the team have grown the business organically and through acquisition to support a diversified customer base in Northern California. The business now operates locally as Redwood Coast Fuels, North Bay Petroleum, or Nick Barbieri Trucking, and has flourished as a full-service commercial fuel distributor, card lock operator, and Chevron Lubricants 1st Source partner.
About RelaDyne
RelaDyne, headquartered in Cincinnati, Ohio, is one of the nation's leading providers of lubricants, fuels, diesel exhaust fluid (DEF), and reliability services for industrial, commercial, and automotive businesses in the United States. RelaDyne was formed in 2010 by the combination of four well-established industry-leading companies and has since grown to more than 60 locations by strategically acquiring other industry leaders in the lubricant, fuel distribution, and industrial service segments. For more information, visit http://www.RelaDyne.com.