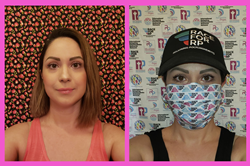 "We are confident Ms. Bautista will bring valuable insight, care, and compassion to her new role."
NEW YORK (PRWEB) May 11, 2021
The Relapsing Polychondritis Foundation (RP Foundation) announced that RP advocate Isabel Bautista has been selected to join the American College of Rheumatology (ACR) Patient Perspectives Program Review Committee.
The Patient Perspectives Program invites patients impacted by rheumatic diseases such as RP, along with patient sponsor organizations such as a nonprofit patient group, to submit stories that share their journeys and experiences with thousands of rheumatology healthcare providers worldwide. Selected submissions are presented at the ACR annual meeting and published online and in Arthritis & Rheumatology, an official journal of the ACR.
Ms. Bautista previously presented a Patient Perspective poster titled Patients With Relapsing Polychondritis ("RP") and an Advocate Manufactured Custom Cloth Masks to Combat COVID-19: This Mask Project Provided a Sense of Purpose, Created Unity, Increased Awareness of RP, Facilitated Research, and Generated Hope at ACR Convergence 2020. One of only four patients selected to present a poster to attendees, she detailed the story of her team of RP patients who made and distributed free masks and ear savers for fellow RP patients across the globe during the COVID-19 pandemic.
"We are confident Ms. Bautista will bring valuable insight, care, and compassion to her new role," said David Bammert, Director and President of the RP Foundation. "The RP Foundation applauds her continued commitment and dedication to helping patients with RP and autoimmune diseases."
More information about the ACR Convergence 2021 Patient Perspective Poster Program can be found here.
For more information about relapsing polychondritis, the RP Foundation, and the Race for RP, please visit https://www.polychondritis.org and https://raceforrp.org. For all general and media inquiries, please contact David Bammert at (906) 869-3962 or dbammert@polychondritis.org.
About the Relapsing Polychondritis Foundation Inc.
The Relapsing Polychondritis Foundation Inc. is a 501(c)(3) non-profit organization which strives to raise awareness and educate the public, as well as represent its patients to the global medical community and support medical research toward a cure. For more information about the RP Foundation, please visit the foundation's website.
About Race for RP
Race for RP is a non-profit organization that supports research, awareness programs, and care, for those affected by relapsing polychondritis and related diseases. RP is a painful, debilitating, and sometimes fatal autoimmune disease in which the immune system misfires, turning on the patient's cartilage. For more information about Race for RP, please visit the organization's website.