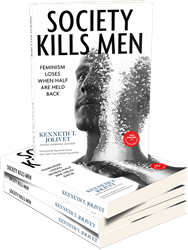 Society can torture and kill men slowly; it's death by 1,000 cuts.
LONDON and NEW YORK (PRWEB) August 02, 2019
Award-winning relationships author Ken Jolivet announces the Aug. 1, 2019 launch of his newest book titled "Society Kills Men: Feminism Loses When Half Are Held Back!" (10-10-10 Publishing, $14.99) with a foreword by New York Times best-selling author Raymond Aaron.
Jolivet's sixth book on relationships, "Society Kills Men" is a comprehensive examination of feminism in the 21st Century and its damaging impact on men and boys in terms of developing self-worth and cultivating a healthy sense of identity and purpose in a seemingly anti-male society. In the book, Jolivet explores the detrimental effects of casual misandry, the masculine counterpart to misogyny as it becomes an increasingly common societal trend in the form of subtle and not-so-subtle microaggressions directed at men that contribute to a growing acceptance of masculine masculinity stereotyping in everyday life.
According to Jolivet, many people seem to think that insulting or shaming men based on negative associations with transgressions or behaviors exhibited by a small percentage of men to stereotype the whole male population is, to some extent, a privilege or entitlement. For example: "Who needs men?" or "Real men don't cry."
Most people who engage in gender stereotyping microaggression are not even aware of their misandry.
In "Society Kills Men," Jolivet argues that radical feminism, cultural gynocentrism, and other societal viewpoints can effectively diminish men's sense of self-esteem in ways that are emotionally torturing and even killing them, More specifically, he points to studies that find suicide rates among men have spiked to their highest levels since the end of World War II. According to the U.S. Centers for Disease Control and Prevention (CDC), suicides among men jumped from 19.8 percent to 33.8 percent per 100,000 people—an increase of 71 percent.
According to global healthcare knowledge provider BMJ, research regarding other factors that contribute to suicide found that "divorced men were nearly 9.7 times more likely to kill themselves than comparable divorced women."
"Feminism has gone too far because it's killing men," Jolivet says. "Feminists have hijacked nearly every facet of life that's important to boys and men.
"Society can torture and kill men slowly," he says, using an analogy to Lingchi, a Chinese torture method known as "death by a thousand cuts."
Jolivet was inspired to write "Society Kills Men" in response to experiences and observations he's made in his world travels, in the difficulties he faced during his divorce, and other injustices men navigate in a "feminized" world. In the book, Jolivet discusses sexism, the country's systems and laws written to favor women, education, dating and workplace diplomacy, man-shaming trends, marriage and children and more, from a male perspective.
His goal in writing the book is to level the playing field by creating a dialogue between men and women that addresses equal and fair practices within the country's legal policies and institutions. Jolivet also emphasizes the reality that both sexes lose in gender wars.
"We need to get men and women talking," Jolivet says. "This can only happen when feminists and politicians are willing to listen objectively when men talk about gender equality from their perspective, in a forum that promotes making their voices heard without the threat of being called misogynists or otherwise being debased."
And just as society has made great strides over the past five decades to encourage girls to shed pre-defined standards of their roles in society and support them in building their sense of self-worth, Jolivet says it's time to put similar efforts to work for boys.
"Boys need to be pumped up and prepared to move past the anti-male rhetoric so we can guide them to develop the level of self-esteem they need to recognize their respective roles in society," Jolivet says. "We need to aggressively target these efforts for boys if we're going to help guide their growth and help them shape future generations of men who have the confidence and know-how to build collaborative relationships with women so that both genders can contribute equally to society.
"If we don't end the current gender wars atmosphere by establishing a dialogue in which feminists and politicians actively listen to all perspectives, women will pay the price and find themselves partnering with insecure men who shun responsibility and who have no sense of identity or purpose.
"Men who lack a sound sense of purpose do not make ideal life partners, but instead live in a state of dependency—is this really what women want?" he says.
Psychologists are weighing in on society's growing complacency with casual misandry that is both widely tolerated and practiced in 21st-Century society, a trend that should concern everyone who believes in equality.
"In her book 'Men on Strike," Forensic Psychologist Helen Smith, Ph.D. says the current gender wars mentality does not reflect the spirit of equality or feminism, but rather a hate and war mentality and one-upmanship," Jolivet says. "We need genuine dialogue and collaboration for true gender equality.
Jolivet says that when real or perceived male faults are used as sweeping indictments against all men, any objections to such generalizations can be interpreted as humorless and hypersensitive. But society's indifference to the growing trend of anti-male antagonism does nothing promote the real goal—promoting equality.
"Without a concerted effort to recognize man-bashing for what it is—an increasingly toxic sport—the "men behaving badly" conversation detracts from the objective of invalidating intolerance," he says. "On the contrary, it fans the flames of animosity among men and a large number of women and increases hostility against feminism."
For more information or to order "Society Kills Men: Feminism Loses When Half Are Held Back!" visit the Society Kills Men website or email ken(at)societykillsmen(dot)com.
About the Author:
Kenneth T. Jolivet was raised in the United States, spent most of his adult life in Europe and currently resides in London. The globe-trotting author has traveled to five continents, visited dozens of countries and has lived in Brazil, Germany, Italy, Spain and Turkey in addition to the U.S. and the U.K. The father of two grown sons and a stepdaughter, Jolivet earned four academic degrees —Bachelor of Science, Master of Science, Master of Science in Real Estate, and the equivalent of a Master of Arts in International Relations (U.S. Air Force).
Divorced at age 43 and retired from the military at age 44, Jolivet spent the next 10 years traveling the world to live, learn, and experience the global community. At 54, he married Persian expat Parvaneh Khosravi in 2018; the couple splits their time between homes in England and Spain.
In addition to "Society Kills Men: Feminism Loses When Half Are Held Back!" Jolivet has authored five other books on relationship-building: "What Men Want Women To Know: 100 Revelations," (May 18, 2013); : "Love, Marriage and Divorce, Through Pain We Emerge," (Jun 19, 2019); "Why Men Cheat: 12 Main Causes" (Feb 18, 2013, E-book, Kindle edition); "How to Attract Women: 13 Things Women Want from Men" (Feb 28, 2013, E-book, Kindle edition) and "Make Sure She's Worth It!: Your Money and Your Heart Are Just the Start" (Nov 15, 2011).