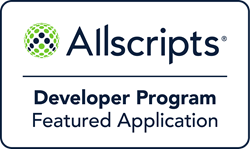 The need for easy to use technologies that help improve quality is clear. That's why Allscripts is proud to recognize Relaymed for the contribution they make to this challenge.
ORLANDO, Fla. (PRWEB) November 18, 2019
Relaymed has been chosen as the Allscripts App of the Month for the third time. Their integrated solution makes a significant impact on clinician workflow by enabling healthcare providers to focus on what matters most: providing amazing patient care.
Every year, billions of point-of-care test results (urinalyses, blood tests, etc.) are still entered manually from paper printouts into the electronic health record (EHR). This time-consuming process presents opportunities for human error and lost results. Relaymed automates this process, eliminating manual effort and mistakes.
In a world where so many of our day to day tasks can now be streamlined with technology, why continue to enter these results manually when solutions are available to automate the process? That's why Allscripts chose Relaymed as their November App of the Month.
"We're honored to be a 3-time Allscripts App of the Month partner. This gives us the opportunity to showcase Relaymed to more physician practices that use Allscripts on how we can help them work smarter, not harder, to spend more facetime with patients. Together with Allscripts, we're working to improve quality of care while also reducing clinical staff burden," said Neil Farish, CEO at Relaymed.
Being chosen as Allscripts App of the Month recognizes the real difference that Relaymed can make in a busy physician practice and why it's a solution that they are promoting to their clients.
"The need for easy to use technologies that help improve quality is clear. That's why Allscripts is proud to recognize Relaymed for the contribution they make to this challenge, as timely, accurate lab results that clinicians can immediately use during a patient encounter are an important part of the overall patient experience," said Tina Joros, Vice President & General Manager, Open & Allscripts Practice Financial Platform.
Allscripts is a leader in EHR interoperability and healthcare information technology solutions that advance clinical, financial and operational results across an Open platform. Featuring the industry's most innovative Healthcare IT developers, the award-winning Allscripts Developer Program (ADP) speeds time from innovation to implementation to help increase productivity, deliver higher-quality, more personalized care, seamlessly integrate devices, manage population health and much more.
Just as the Allscripts Developer Program offers first class open APIs, so does Relaymed, which has some of the leading medical device vendors (including Abbott, Siemens, Roche) on its lab interface platform. These interconnecting ecosystems are where the power of open, quality and value all intersect.
Allscripts clients can learn more about Relaymed on the Allscripts Application Store and register for the Allscripts App of the Month webinar on November 21.
About Relaymed
Relaymed is the middleware solution the ambulatory market was missing, linking the disparate worlds of point-of-care testing and electronic health record systems. Relaymed eliminates manual tasks that slow down staff and providers so they can concentrate on what matters -- patient care. Now millions of patient test results are transmitted securely and efficiently across a growing network of healthcare delivery organizations leveraging a single connectivity platform compatible with the leading vendors. Learn how you can take advantage of the efficiency gains of Relaymed.