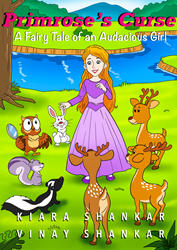 Amazing plot and a very thoughtful fiction! Perfectly narrated story about the brave girl Primrose and a group of woodland animals is very inspiring to all kids!
SAN RAMON, Calif. (PRWEB) March 18, 2019
A breathtaking story about Primrose Fernetise, a beautiful audacious twelve-year-old girl, and a group of woodland animals with divine mystical abilities set out on an adventurous mission to Hellevue, a murky island on the dreary part of Mystopical. Their daring mission involves vanquishing the evil sorceress Queen Evelyn Velecrona and breaking the curse she has cast on humanity. How do the woodland animals and Primrose plan and embark on their brave voyage to defeat the wicked sorceress? Will the bunch of lovable woodland animals and an innocent twelve-year-old girl really succeed in bringing down the dreadful Queen Evelyn? Also, will they be able to bring back peace, well-being and happiness to humanity? To find out more about this epic fairy tale, please do consider reading this entire book.
It's a fiction book with beautiful color illustrations that will delight readers' (especially Kids') imagination!
Check out the synopsis at this short video on YouTube.
Primrose's Curse book is now available for purchase worldwide on:
amazon.com | Apple iBooks| Kobo| Barnes & Noble | OverDrive | pothi.com| more select retailers
Suggested Age Level: 7 to 18+
ISBN/ Suggested Retail Price:
978-1-950263-02-8(eBook)/ US $6.99
978-1-950263-03-5(Paperback-B&W Interior) / US $16.99
978-1-950263-00-4(Paperback-Color Interior)/ US $19.99
978-1-950263-01-1(Hardcover-Color Interior)/ US $24.99
Audio book of Primrose's Curse will be available for purchase on audible.com and Apple iTunes in early April 2019. Click here to listen to Primrose's Curse Audio book sample.
25% of profits from Primrose's Curse book sales on authors' website will benefit girls' education in developing nations through Malala Fund.
About Author(s):
Kiara Shankar is a middle schooler from a small town in California, USA. Apart from writing books, she loves reading, artwork, writing poems, playing with her friends, and listening to her favorite Bollywood music.
Kiara's poem "A Deadly Star" was published in the national level writing contest book "A Celebration of Poets" (Fall 2018 Edition - published by Creative Communication, Utah, USA).
Vinay Shankar is Kiara's dad, a software professional, who found himself inspired by his daughter's idea of writing fiction books and decided to co-write this book with her. This collaborative effort of the family is helping to bring great ideas to life!
To inquire about a review copy of Primrose's Curse book, please contact the publisher at below mentioned email address.
For more details, visit the authors' website at http://www.vikipublishing.com
Contact:
Vinay Shankar
email: info@vikipublishing.com
website: https://www.vikipublishing.com