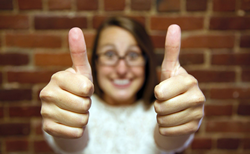 External incentives such as praise, bonuses or perks can be powerful motivators for many people, but their positive effects are likely to be short-term.
MONTREAL (PRWEB) April 10, 2021
A sincere "thank you," pat on the back, or hearty thumbs up can do wonders for a person's motivation - and doesn't cost a dime, making it a win-win for employees and management alike. However, as with other external incentives, praise can be a doubled-edged sword, especially for people who desperately depend on it to keep them going or to boost their self-image. Research conducted by PsychTests indicates that when praise-addicted people don't get their "fix," they are more likely to become apathetic and easily discouraged.
Analyzing data collected from 12,259 people who took the Emotional Intelligence Test, PsychTests' researchers compared individuals who thrive on praise ("Praise-Cravers") to those who don't ("Praise-Abstainers").
HERE'S WHERE THEY DIFFERED:

52% of Praise-Cravers purposely set low expectations for themselves so that they are not disappointed when they fail, compared to 6% of Praise-Abstainers.
43% said that they are fine with having "average" skills in any area, compared to 28% of Praise-Abstainers.
28% would rather accept their weaknesses than put in the effort to work on them, compared to 12% of Praise-Abstainers.
If they are not good at something right away, 50% of Praise-Cravers would rather quit than waste time trying to improve, compared to 5% of Praise-Abstainers.
71% of Praise-Cravers procrastinate when they need to do a task that is difficult or unpleasant, compared to 28% of Praise-Abstainers.
57% struggle to work amidst distraction, compared to 15% of Praise-Abstainers.
57% start projects or goals that they don't finish, compared to 10% of Praise-Abstainers.
59% are unable to motivate themselves and need a push from someone to get them going, compared to 7% of Praise-Abstainers.
52% said that they often feel discouraged, compared to 7% of Praise-Abstainers.
IN CONTRAST:

84% of Praise-Abstainers received a job performance rating of 'Good' or 'Excellent', compared to 52% of Praise-Cravers.
Upon setting a goal or objective, 76% of Praise-Abstainers immediately take steps towards achieving it, compared to 59% of Praise-Cravers.
62% of Praise-Abstainers have a five-year plan, compared to 51% of Praise-Cravers.
88% of Praise-Abstainers aspire to become a better person, compared to 74% of Praise-Cravers.
96% of Praise-Abstainers enjoy learning new things, compared to 83% of Praise-Cravers.
90% of Praise-Abstainers make it a point to look for ways to improve their performance at school or work, compared to 68% of Praise-Cravers.
51% of Praise-Abstainers take active steps to change any aspect of their lives that they are not satisfied with, compared to 13% of Praise-Cravers.
"Extrinsic motivators such as praise, bonuses or perks can be powerful incentives for many people, but their positive effects are likely to be short-term," explains Dr. Ilona Jerabek, president of PsychTests. "This is particularly true if your job is stressful, your work environment is unpleasant, or you don't enjoy what you do - in which case there is no amount of money or fringe benefits that will make your work day fun. Moreover, if external incentives are your only sources of motivation, then you're in big trouble. Without intrinsic rewards such as a feeling of accomplishment, pride in a job well done, a sense of belonging, or the opportunity to grow personally and professionally, your motivation will lag. And as we have seen in our study, people who depend too much on outside incentives to keep them going almost always lose momentum and inspiration to work hard. Try to find a sense of meaning in your job. How are you making people's lives better? What do you like about your colleagues, your work environment, or your work in general? What puts a smile on your face? How do you feel after a productive day? If you struggle to answer these questions or none of your responses make you happy, then it might be time to either work on your mindset or perhaps even consider seeking employment elsewhere."
Want to assess your EQ? Check out our Emotional Intelligence Test by visiting: https://testyourself.psychtests.com/testid/3979
Professional users, such as HR managers, coaches, and therapists, can request a free demo for this or other assessments from ARCH Profile's extensive battery: http://hrtests.archprofile.com/testdrive_gen_1
To learn more about psychological testing, download this free eBook: http://hrtests.archprofile.com/personality-tests-in-hr
About PsychTests AIM Inc.
PsychTests AIM Inc. originally appeared on the internet scene in 1996. Since its inception, it has become a pre-eminent provider of psychological assessment products and services to human resource personnel, therapists and coaches, academics, researchers and a host of other professionals around the world. PsychTests AIM Inc. staff is comprised of a dedicated team of psychologists, test developers, researchers, statisticians, writers, and artificial intelligence experts (see ARCHProfile.com).