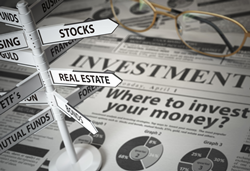 The typical institutional model of investing—what is in use today—no longer works for individual investors and families.
FAIRFIELD, Conn. (PRWEB) September 08, 2020
According to the S&P 500 index, a benchmark of the American stock market's performance dating back to the 1920s, the index has had an annualized average return of around 10% since its inception.(1) However, the average equity fund investor only earns a market return of 5.19%.(2) Real Intelligence LLC President Jeff Mount says there are a number of reasons for this wide disconnect.
"The typical institutional model of investing—what is in use today—no longer works for individual investors and families. The measured timeline of this index might not match the needed timeline for an investor with a specific distribution date and the long-term reported returns mask the volatility that shakes the confidence of the average investor," said Mount.
"Many do-it-yourself investors and financial advisors rely on these well-advertised averages to plan for the funding of a family's life events. However, when markets behave in wildly different ways than was expected, we very rarely see significant behavioral change or resetting of expectations because the hours of work required to do those calculations feel tedious."
Robo-advisers, which many people have embraced because of their promise of low fees and high returns, follow the same traditional model. One of the biggest downsides of robo-advisers is that an algorithm determines which financial investments to make, and when that algorithm is based off an outdate and unreliable system, it results in a cookie-cutter, one-size-fits all portfolio.(3), (4)
The institutional method of financial planning relies on risk profile questionnaires and systematic rebalancing and is solely focused on investments and insurance. This type of approach has many downsides which can result in lower returns on investments.
Typically risk profile questionnaires consist of a series of questions that are supposed to determine investment objectives and how one will react during certain investment market and economic conditions. However, the answers to these boilerplate questions about risk are simply a snapshot in time that reflect the emotional condition of the investor.
For example, a family who answers how concerned they are about putting assets at risk today will most certainly answer with a lower level of confidence than they would have one year ago. A quick reminder that we were living in the longest running bull market of all time a year ago and there was virtually no volatility. Additionally, these questionnaires do not fully give an advisor an understanding of his or her clients, their needs, or any insight as to how they will react when faced with real, or perceived, periods of risk.(5)
Systemic rebalancing, where assets are rebalanced to ensure they are close to the initial allocation, could be repeating the same mistake by rebalancing back to the flawed allocation that was set based on an inaccurate assumption of risk from the flawed risk profile questionnaire.
Mount recommends a human-centric approach to financial planning. "In order to justify paying three to four times as much as a robo-adviser, the human financial advisor has to be able to connect with their clients on a human level, with human-centered financial planning tools." One such tool, Real Intelligence LLC's Dynamic Mapping software, developed by Mike Helgesen, shows financial obligations with a visual graphic that is easy for anyone to understand and follow and helps add clarity to the need for personal benchmarking.
The Dynamic Map approach to financial planning results in a customized financial plan that covers all parts of the family's financial life, delivers a higher quality of service than the traditional financial planning experience, and quarterly reviews help identify if the chosen strategies are delivering the most desirable outcome.
Mount will explain how investing using a human-centric model will remove risk from financial planning during JOTO PR Disruptors' "Top COVID-19 Summit Quarantined Press Conference—The Pivot Series" on Thursday, September 17, at 2 p.m.
During the press conference Mount will discuss:

The Institutional Method of Financial Planning vs. The Human-Centered Method
How investors can learn to make good financial decisions during a crisis
The benefits of the buckets of money strategy
The need for an essential family office
The best financial planning tools available for families and individuals
How an individual can find the best advisor
To register for the press conference, click here or visit https://register.gotowebinar.com/register/956858099686197260
About Real Intelligence LLC
Real Intelligence LLC is the brainchild of entrepreneurs and industry experts Jeffrey Mount and Mike Helgesen. With 55 combined years of industry expertise and the alliance of both their innovations: Dynamic Mapping and the Essential Family Office training programs—Real Intelligence LLC is poised to offer a complete essential tool kit to the next generation of elite Financial Advisors. With strategic, industry proven training, patented technology, and an unprecedented lead generation opportunity the paradigm of financial services is shifting from status-quo. This human-centric approach to financial planning is a consultant's greatest tool to combat the competitive threat of free programs through robo-advisers and the dangers of irrelevancy. To Learn more visit: http://www.realintelligence360.com.
1. Maverick, J.B. "What is the Average Annual Return for the S&P 500?" Investopedia, February 19, 2020, investopedia.com/ask/answers/042415/what-average-annual-return-sp-500.asp.
2. Anspach, Dana. "Why Average Investors Earn Below Average Market Returns." The Balance, January 28, 2019, thebalance.com/why-average-investors-earn-below-average-market-returns-2388519.
3. Marquit, Miranda. "Is a Robo Advisor the Right Choice for You?" U.S. News, March 13, 2020, money.usnews.com/investing/portfolio-management/articles/is-a-robo-advisor-the-right-choice-for-you.
4. Mayer, Evan. "The Value of a Financial Advisor vs. the Cost of a Robo-Advisor." Worth, August 26, 2020, worth.com/financial-advisor-vs-robo-advisor.
5. Torre, Joseph. "An Alternative to the Risk Profile Questionnaire." Think Advisor, January 24, 2020, thinkadvisor.com/2020/01/24/an-alternative-to-the-risk-profile-questionnaire.