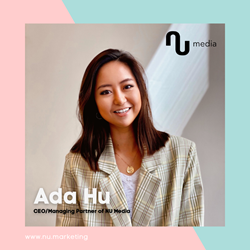 When people see a fairly young woman enter the doors for a meeting, they don't associate this with leadership in a company. They look behind me, expecting to see someone else - Ada Hu, CEO, NU Media
NEW YORK (PRWEB) March 11, 2021
"For the longest time, I thought you were just a pretty face." Comments like this reflect how people think, even after years of knowing the apparent truth. As a woman in the marketing industry, there are many times when demeaning words seem to be normalized, even consistent.
Ada Hu, the CEO of NU Media, still receives these comments and brushes it off as the norm for her because it happens so often. Is it possible to reform the rhetoric when even the head of a company is only seen as a pretty face?
There are times when incongruencies occur and the term "girl power" gets lost in translation. Often misidentified as an assistant rather than the boss, Ada reflects on the times where she had been overlooked and assumed underqualified.
She states: "when people see a fairly young woman enter the doors for a meeting, they don't associate this with leadership in a company. They look behind me, expecting to see someone else."
With so many comments on success and what it looks like for a woman, achievements are in the eye of the beholder. To NU Media, it is measured through dedication, consistency and grit.
Unintentionally done, NU Media is one of the only full-service marketing agencies with over 85% of their employees identifying as female. Efficient and bustling, the work produced reflects the positive atmosphere and happy staff.
Entering the doors of NU Media, chairs are huddled together and inhibitions are thrown aside. Everyone feels they can rely on each other, yet no one is talked over.
At NU Media, Women's History Month is celebrated daily as everyone in the immediate New York City office identifies as a woman. For more information about NU Media, visit nu.marketing
About NU Media
NU Media was founded in 2019 with a mission to support and serve small and mid-sized business partners with integrity and to aid their growth by providing the highest level of service and expertise. Their professional team includes a diverse group of web developers, online marketing experts, and digital strategists working from all corners of the world to deliver unbeatable results for their partners. http://nu.marketing