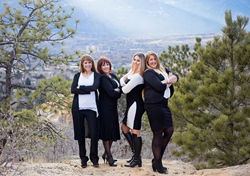 Their mission is to establish an undeniable trust, exemplify the definition of 'high-caliber performance' and, most importantly, demonstrate the care clients deserve.
Colorado Springs, CO (PRWEB) March 27, 2017
RE/MAX Properties, Inc. Realtor Lana Rodriguez recently put together a team of experienced and ethical real estate professionals. The Lana Rodriguez Group, aka "The LRG," was assembled to address the challenges of the Colorado Springs market for buyers and sellers, who are faced with low inventory and ever-increasing demand.
"These professionals have answered the call of duty to protect and serve any and all buyers and sellers," said Rodriguez. "Their mission is to establish an undeniable trust, exemplify the definition of 'high-caliber performance' and, most importantly, demonstrate the care clients deserve."
Leading this force is Rodriguez, a Colorado Springs Residential Expert who has earned the top 1 percent ranking, served close to 200 families within less than a 24-month period and has added priceless value to Colorado Springs and El Paso County. She has ten years of exceptional managerial and customer service experience with global brands such as Michael Kors, Kenneth Kole and BCBG.
Managing The LRG is Debi Volk, who has held an eclectic array of management and administrative positions. From law firms to real estate settlement services, Volk is able to ensure client care never falls below extraordinary satisfaction. "Her specialized skills sustain the group's ability to be anywhere and at any time for their clients," added Rodriguez.
Another integral member of the team is accomplished and passionate military spouse Cami Browning, a recent Master of Business Graduate of Fogelman College at the University of Memphis. "Cami was brought on board to deliver a competitive advantage in client service and management," noted Rodriguez. "Just like her husband's commitment to serve our country, Cami truly demonstrates her devotion to serve her buyers and sellers in this fierce, competitive market."
Additionally, providing supplementary support, is Colorado Springs native Kelli Henry. As an alumnus of Colorado State University-Pueblo and a dynamic coach for Colorado's leading fastpitch softball club, Springs Thunder, Henry applies her marketing knowledge and coaching skills in providing a rewarding experience for her clients and ultimately building lasting friendships.
"This energetic and accomplished group of professionals is always available to serve and meet one's real estate needs," concluded Rodriguez. "The LRG is a proven, resourceful and caring group that only wants to bring value to their clients' lives."
About Lana Rodriguez, RE/MAX Properties, Inc.
Lana Rodriguez works with buyers and sellers in the El Paso County area. LRG a recipient of the Self-Marketing Award for 2015, the RE/MAX and RMP 100% Club Award for 2015, RE/MAX Chairman's Club, #1 Transaction Closed Individual Associate, Quantum Leap & Hall Of Honor for 2016, and was in the top 10% for 2015 and top 1% for 2016 in the Pikes Peak region. For more information, please call (719) 644-8900, visit http://www.PCSColorado.com, or watch their videos at http://youtu.be/8w0kKprvHqw and https://youtu.be/2G3WkxE-FGQ. The office is located at 2630 Tenderfoot Hill Street, Suite 100, Colorado Springs, CO 80906.
About the NALA™
The NALA offers small and medium-sized businesses effective ways to reach customers through new media. As a single-agency source, the NALA helps businesses flourish in their local community. The NALA's mission is to promote a business' relevant and newsworthy events and achievements, both online and through traditional media. For media inquiries, please call 805.650.6121, ext. 361.