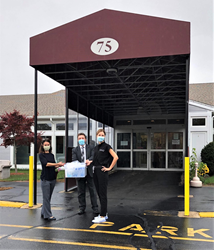 CHELMSFORD, Mass. (PRWEB) November 11, 2020
Remedium Pharmacy is pleased to announce a significant recent donation of personal protective equipment and medical accessories to the Chelmsford Senior Center in Chelmsford, Massachusetts.
The donation included masks, gloves, and other personal protective equipment (PPE), as well as medical accessories such as hand sanitizer dispensers, oximeters, and thermometers. The supplies allow the staff of the Chelmsford Senior Center to continue providing vital services to the disabled and over-60 adults who rely on its services in a safe environment.
Remedium Pharmacy's donation is the latest product of a collaboration between Debra Siriani and Natalie Dussault, of the Chelmsford Senior Center, and Cristina Iepure, owner/pharmacist of Remedium Pharmacy, an independent compounding pharmacy based in neighboring North Chelmsford.
According to Dussault, senior center staff called Remedium Pharmacy to inquire about thermometer pricing. In response, Iepure offered a sizable donation of thermometers at no charge, along with the other contributed items: individual-sized hand sanitizer bottles, latex gloves, procedural masks, among others.
"These challenging times have led to critical PPE shortages that put all of us, especially our seniors, at greater risk," said Iepure. "Remedium was pleased to provide these much-needed supplies to help keep our community safe."
The senior center plans to provide its onsite staff and van drivers with the masks and gloves to reduce the risk of COVID-19 transmission in the community, protect vulnerable guests, and ensure compliance with local health regulations. The thermometers will enable onsite health screenings for guests and staff that exhibit symptoms, while the hand sanitizer bottles will be available on demand for all visitors and workers.
About Remedium Pharmacy
Remedium Pharmacy is a compounding, long term care and retail pharmacy located in North Chelmsford, Massachusetts. Committed to providing a "pharmacy experience with a personal touch," Remedium specializes in customized medication for a range of indications and conditions. Its team of friendly, multilingual pharmacists and staff remains on call around the clock and supports extra-mile services like prompt, free delivery within the greater Lowell area. Learn more at https://www.remediumrx.net/.
About Chelmsford Senior Center
Run by the Human Services Department of the Town of Chelmsford, Massachusetts, the Chelmsford Senior Center provides a diverse array of programs and services to disabled adults and senior citizens 60 years of age and older from Chelmsford and surrounding communities. Learn more on the Chelmsford Senior Center's Facebook page or by calling (978) 251-0533.