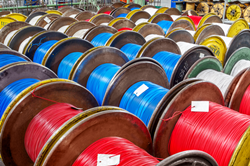 The new REMnant™ Excess Inventory program includes 500 ft. (or larger) cables of all kinds, as well as random lengths from mill ends.
FLORIDA, N.Y. (PRWEB) April 03, 2019
Remee has set up a new web page for the purpose of communicating the various REMnant fiber optic and/or copper cables that are available in this new program, as well as their lengths. See the new REMnant Excess Inventory web page.
There are two categories of surplus inventory offered by Remee. Altogether, there are hundreds of cables available in the REMnant program (currently over 1,400), which will be updated on a regular basis to keep the inventory lists current.
1. Excess Inventory – includes a variety of cables available in 500 ft. lengths or longer.
2. Random Lengths – These cables are available in varying lengths, from a couple hundred feet to 1,000'. They are available in many cable types.
Remee maintains a strong stock position of standard cables and partial products for customizations to service its customers. Yet, there are times when some inventory becomes surplus to current demand. And since cable installers, end users, and distributors often have a need for a small or odd amount of cable, Remee has collected its surplus material – all top-quality cable (no seconds or irregulars) – to make it available for these smaller cable requirements.
For more information on see our REMnant Inventory web page. For more information on Remee Wire & Cable, its product capabilities and specialization in handling complex and custom cables, please visit the Remee Wire & Cable Website. Or call Remee at 1-800-431-3864.
About Remee Wire & Cable
Remee Wire & Cable is a world class manufacturer of electronic wire and cable, both copper and fiber optic cable.
The company is headquartered in Florida, New York, where its corporate offices, engineering and manufacturing facilities are all located. Since our beginnings in 1972, personal attention and care have been the hallmarks of the family-run company. Our engineering and manufacturing expertise have enabled our growing product offering and custom capabilities to a level that rivals some of the largest cable manufacturers. The large standard cable offering, along with expert capabilities to modify any standard cable or design and manufacture custom-made cables, are proof of our significant industry stature.
Remee features the quick decision-making, special customer care and access to executives, which are all associated with a family-run company. Yet, Remee offers a huge selection of cables and expert capabilities that rival the largest cable manufacturers. So, at Remee, customers enjoy our "dual personality" and the best of both worlds.