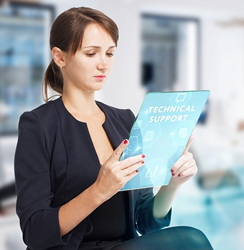 Remote IT support allows even small businesses to benefit from enterprise-grade solutions.
HOBOKEN, N.J. (PRWEB) April 21, 2021
A NYC area managed services provider (MSP) discusses the advantages of remote IT support for small to mid-size businesses in a new article on the eMazzanti Technologies website. The informative article first reviews the flexibility and variety of service options available from MSPs.
The author goes on to discuss how 24/7 monitoring increases security, system performance, and productivity. He explains how remote IT support applies to remote workers and how the depth of expert teams helps to level the playing field for smaller businesses. He concludes by asserting that MSPs make enterprise-grade technology an affordable option.
"With information technology and cybersecurity threats evolving rapidly, organizations struggle to secure vital assets and maximize productivity," stated Almi Dumi, CISO, eMazzanti Technologies. "Remote IT support allows even small businesses to benefit from enterprise-grade solutions."
Below are a few excerpts from the article, "Remote IT Support Delivers Proactive Solutions."
Increased Security and Productivity with 24/7 Monitoring
"One of the key benefits of engaging remote IT support involves proactive monitoring and maintenance of the network, whether on-premises or in the cloud. The MSP will ensure that your software and hardware stay up-to-date and protected. Furthermore, 24/7 monitoring means quicker issue resolution and less downtime."
Remote Worker Support
"This round-the-clock support applies even to a workforce spread across multiple offices. In most cases, MSP technicians can provide support over high-speed internet, via live chat and remote access technology. With an estimated 25 percent of knowledge workers working remotely, this ability plays a crucial role in maintaining productivity."
Cutting Edge Technology at a Manageable Cost
"Managed services also make enterprise-grade technology an affordable option. In the traditional IT model, businesses took on significant capital expense to build and maintain a network of servers. Now, the MSP manages the infrastructure, providing access to cutting edge hardware and software solutions that support evolving business needs."
Explore Remote IT Support Offerings
Organizations looking to take their business to the next level should research carefully as they choose an MSP partnership. Business leaders look for a remote IT support provider that offers the experience and services to complement identified business needs.
eMazzanti offers a comprehensive range of customizable services designed to improve IT performance, strengthen cybersecurity, grow revenues, and increase productivity. From cloud-delivered security solutions to Microsoft 365 optimization, managed network services and more, they deliver the expertise needed.
Have you read?
Leverage Technology to Prevent Remote Worker Disengagement
Incident Response Plan a Critical Component of Cyber Security
About eMazzanti Technologies
eMazzanti's team of trained, certified IT experts rapidly deliver increased revenue growth, data security and productivity for clients ranging from law firms to high-end global retailers, providing advanced retail and payment technology, cloud and mobile solutions, multi-site implementations, 24×7 outsourced network management, remote monitoring, and support.
eMazzanti has made the Inc. 5000 list 9X, including eight consecutive years, is a 4X Microsoft Partner of the Year, the #1 ranked NYC area MSP and NJ Business of the Year! Contact: 1-866-362-9926, info@emazzanti.net or http://www.emazzanti.net Twitter: @emazzanti Facebook: Facebook.com/emazzantitechnologies.