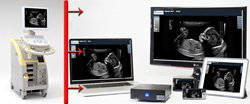 ...rmtConnect™ solution uses the healthcare facilities existing equipment, which protects that medical organization's previous investments.
MELVILLE, N.Y. (PRWEB) February 06, 2019
Remote Medical Technologies (RMT) with their impressive rmtConnect™ Teleultrasound System will be a first-time exhibitor at the Society of Maternal Fetal Medicines' (SMFM) Annual Pregnancy Meeting, held at Caesars Palace in Las Vegas from February 13th to the 15th. RMT is an industry leader in teleultrasound capabilities that strengthens radiology workflows with a remarkable solution that includes PC, MAC, iPhone, iPad, and Android capabilities. Their rmtConnect™ solution uses the healthcare facilities existing equipment, which protects that medical organization's previous investments. At this year's conference, RMT will be demonstrating their offering with one of the most commonly used and reputable ultrasound machines in the maternal-fetal medicine space.
The rmtConnect™ Teleultrasound System allows doctors and technicians to collaborate in LIVE, dynamic, real-time by streaming high definition and high-resolution images and video securely. Extremely intuitive and user-friendly, rmtConnect™ requires only our secure, compact appliance device package, Internet connectivity, and works with your existing ultrasound equipment. RMT's teleultrasound technology offers both snapshot image and movie video capture and storage capabilities with accompanying the new in-session audio. It's the ideal solution for real-time sharing and collaboration of true live high definition images. rmtConnect™ is the most mobile of teleultrasound solutions and cost-effectively helps save time and improve patient care among collaborating experts.
Originators in isolated locations that have difficulty establishing an Internet connection with their wireless service provider would still have the ability to access the latest version of RMT teleultrasound technology while utilizing the rmtConnect™ Portable Case Teleultrasound System. This solution easily transmits images remotely since users can "bring the network with them." This capability is achieved by using cellular technology packaged in a heavy-duty, carry-able (approximately 20 lbs. or 9 kg) case. This purpose-built molded plastic case uses components that are especially sensitive to cellular connections and will often establish connectivity in locations where mobile phones are unable to do so.
RMT recently rolled out their newest advancement, the rmtConnect™ for iOS application. SMFM attendees are sure to be impressed with the extreme portability of this solution. rmtConnect™ for iOS takes portability to new heights. This app, which contains all the features and benefits of rmtConnect™ for PC/Mac and rmtConnect™ for Android, gives users the ability to quickly and securely participate in live, dynamic streaming of HD video and in-session audio from their iPhone™ or iPad™. Moderators allow guest participants to join a session, jointly annotate images, and record snapshots and movies for instant image sharing and decision-making among collaborating experts. RMT Founder & CEO, Don Marchon, explains how RMT is "… the most secure and highest performance and quality teleultrasound solution on the market that has been purpose-built to meet strict requirements". rmtConnect™ was designed to help healthcare facilities streamline the process of decision making to treatment resulting in better workflow, higher revenue, and lower costs.
Visit Remote Medical Technologies in the Caesars Palace at Booth # 407. To learn more about the rmtConnect™ Teleultrasound System or receive an online demonstration, visit http://www.rmtcentral.com or email info@rmtcentral.com.
About SMFM:
The Society for Maternal-Fetal Medicine gathers each winter for The Pregnancy Meeting to share the latest innovations in research and clinical care. Through educational seminars and research presentations, we bring together MFMs in training, practicing clinicians and veterans in the field. We invite attendees to share clinical wisdom, original research, and passion for improving outcomes for mothers and babies.
About Remote Medical Technologies:
Remote Medical Technologies (RMT) is the creator of innovative patented technology for the delivery of secure Internet-based premium telemedicine services. RMT provides a best-in-class web-based video, voice, collaboration and administration platform. With simply the use of a browser the solution is easy to deploy, operate and manage. This customizable and extendable multimedia services platform is a modular, non-fragmented approach to extending a healthcare organization's communications infrastructure. Be it across the street or around the globe, RMT drives telemedicine concepts and provides solutions that save lives.
RMT Mission Statement: With everything that we do, RMT challenges the standard on how quickly medical facilities provide more and better patient outcomes.  We believe there is a better way to reliably improve and significantly benefit patients, doctors and the profitability model of medical organizations.