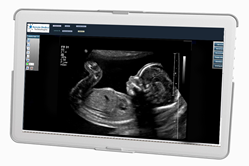 ...designed to help healthcare facilities streamline the process of decision making to treatment resulting in better workflow, higher revenue, and lower costs.
MELVILLE, N.Y. (PRWEB) January 28, 2020
Remote Medical Technologies (RMT) is exhibiting RMTConnect™ for Teleultrasound at the Society for Maternal-Fetal Medicine's (SMFM) Pregnancy Meeting in Grapevine, Texas from February 5th through the 7th. RMT solutions contain highly impressive innovative features and benefits of a high-performance HD teleultrasound solution. RMTConnectTM allows users to securely stream live teleultrasound video images directly from ultrasound machines in real-time to remote radiologists for instant decision-making. RMT provides teleultrasound technology with industrial-strength wireless connectivity and impressive in-session communications (Webcam and VoIP) as well as remarkable host invite functionality (guest invites via email, phone, or text).
The RMTConnect™ solution uses the healthcare facilities' existing equipment, which protects that medical organization's previous investments. At this year's conference, RMT will be demonstrating its offering with one of the most commonly used and reputable ultrasound machine in the maternal-fetal medicine space. RMT Founder & CEO, Don Marchon, explains, "RMT is the most secure and highest performance and quality teleultrasound solution on the market. The system is purpose-built to meet strict medical requirements to empower clinicians." RMTConnect™ is designed to help healthcare facilities streamline the process of decision making to treatment resulting in better workflow, higher revenue, and lower costs. Several blue-chip medical facilities, utilizing RMT solutions, have quantifiable proof that the proper telemedicine solution can significantly shorten procedure time and is a more efficient model for the delivery of on-site interpretations. It is critically important to select a solution that meets all pertinent workflow criteria. A viable solution must include customizable deployment and real-time support while meeting all security regulations. RMT exceeds these requirements and continues to improve on providing a best-in-class teleultrasound solution.
Receive a hands-on demonstration of how RMT Teleultrasound Solutions have greatly improved daily operations at medical facilities around the US. Visit Remote Medical Technologies at the Gaylord Texan Resort in Booth #284. To learn more about the RMTConnect™ Teleultrasound System or receive an online demonstration, visit http://www.rmtcentral.com or email info@rmtcentral.com.
About SMFM:
The Society for Maternal-Fetal Medicine gathers each winter for The Pregnancy Meeting to share the latest innovations in research and clinical care. Through educational seminars and research presentations, we bring together MFMs in training, practicing clinicians and veterans in the field. We invite attendees to share clinical wisdom, original research, and passion for improving outcomes for mothers and babies.
About Remote Medical Technologies:
Remote Medical Technologies (RMT) is the creator of innovative patented technology for the delivery of secure Internet-based premium telemedicine services. RMT provides a best-in-class web-based video, voice, collaboration and administration platform. With simply the use of a browser the solution is easy to deploy, operate and manage. This customizable and extendable multimedia services platform is a modular, non-fragmented approach to extending a healthcare organization's communications infrastructure. Be it across the street or around the globe, RMT drives telemedicine concepts and provides solutions that save lives.
RMT Mission Statement: With everything that we do, RMT challenges the standard of how quickly medical facilities provide more and better patient outcomes. We believe there is a better way to reliably improve and significantly benefit patients, doctors and the profitability model of medical organizations.