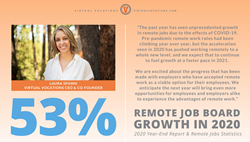 "Pre-pandemic remote work rates had been climbing year over year, but the acceleration seen in 2020 has pushed working remotely to a whole new level." –Virtual Vocations CEO and co-founder Laura Spawn
TUCSON, Ariz. (PRWEB) February 02, 2021
A new report from one of the web's leading remote job boards outlines a year of record-breaking growth for remote work—and paints a picture of what the digital workplace could look like in 2021 and beyond.
Citing company data and national remote work statistics, Virtual Vocations' sixth annual Year-End Report breaks down the top industries, companies, and locations for remote jobs in 2020, and offers insight into the state of remote work as told by jobseekers and current working professionals.
According to the report, information technology (IT) reigned supreme for the fourth straight year in a row as the top industry for remote jobs. One in five openings posted to Virtual Vocations' job board in 2020 came from the IT field.
Remote sales jobs, which had topped the chart as recently as 2015, fell to No. 3 in this year's list of best industries, according to Virtual Vocations. Jobs in healthcare, education, and finance rounded out the top five.
The openings listed on Virtual Vocations' job board are sourced from more than 15,000 remote-enabled employers, all hand-screened by the company's expert team. In 2020, over 460,000 jobs made the cut, an increase of 53% from the year prior—the biggest jump in company history.
But the record-breaking doesn't stop there. Virtual Vocations' 2020 Year-End Report and Remote Jobs Statistics also highlights employers that led the pack with fresh work from home openings, including familiar faces like VocoVision, UnitedHealth Group, Stride, Inc. (formerly K12 Inc.), and Oracle.
Also earning spots in the top 10 were companies like Humana Inc., Parallon, PRA Health Sciences, and Anthem Inc., all of which operate in the healthcare sphere, whether through providing direct care, insurance, or business services to medical providers.
That these employers led in the number of jobs posted reflects the unique hiring circumstances brought on by the COVID-19 pandemic. But though many companies used the opportunity to expand their hiring pools across the country, some jobs posted to Virtual Vocations' database in 2020 were location-specific.
Of those, top locations for remote work in 2020 included California, Texas, and Florida, according to Virtual Vocations' report. New York and Illinois also made the top five.
Released Monday, Virtual Vocations' 2020 Year-End Report and Remote Jobs Statistics comes after what company CEO Laura Spawn called a year of "unprecedented growth" for remote work.
"The past year has seen unprecedented growth in remote jobs due to the effects of COVID-19," Spawn said. "Pre-pandemic remote work rates had been climbing year over year, but the acceleration seen in 2020 has pushed working remotely to a whole new level, and we expect that to continue to fuel growth at a faster pace in 2021."
Spawn also said Virtual Vocations is "excited about the progress that has been made with employers who have accepted remote work as a viable option for their employees."
"We anticipate the next year will bring even more opportunities for employees and employers alike to experience the advantages of remote work," she said.
To learn more about Virtual Vocations or view the company's full 2020 Year-End Report and Remote Jobs Statistics, visit: https://www.virtualvocations.com/blog/annual-statistical-remote-work-reports/2020-year-end-report-and-remote-jobs-statistics/
ABOUT VIRTUAL VOCATIONS
Founded in 2007 by CEO Laura Spawn and her brother, CTO Adam Stevenson, Virtual Vocations is a small company with a big mission: to connect jobseekers with legitimate remote job openings. To date, Virtual Vocations has helped more than two million jobseekers in their quests for flexible, remote work.
In addition to providing a database that houses more than 40,000 current, hand-screened remote job openings at any given time, Virtual Vocations offers jobseekers a number of tools to aid in their job searches, including exclusive e-courses and downloadable content, and resumé writing services. Virtual Vocations also releases several data-driven reports each year on current trends in remote work.
Virtual Vocations, Inc. is a private, family-owned, and 100% virtual company incorporated in Tucson, Arizona.
PRESS INQUIRIES
Michelle Rawlings
michelle(at)virtualvocations(dot)com
1 (800) 379-5092 ext. 703
VirtualVocations.com