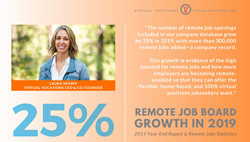 "More employers are becoming remote-enabled so that they can offer the flexible, home-based, and 100% virtual positions jobseekers want." —Laura Spawn, CEO and co-founder of Virtual Vocations
TUSCON, Ariz. (PRWEB) February 11, 2020
2019 was another record-setting year for one of the web's leading remote job boards.
Founded in 2007 by CEO Laura Spawn and CTO Adam Stevenson, Virtual Vocations has spent the last 13 years connecting jobseekers with legitimate, hand-screened remote job openings—and according to the company's latest report, 2019 was its biggest year yet.
Released Sunday, Virtual Vocations' 2019 Year-End Report and Remote Jobs Statistics cites internal company data as well as survey results and outside reports to paint a picture of how remote work is faring on the national stage, including how professionals across all age groups view flexible work and which industries, locations, and employers came out on top for remote jobs last year.
Among the report's findings is a staggering statistic that shows just how much remote work has gained in popularity over the years: since 2015, Virtual Vocations has grown its remote jobs database by a whopping 197%.
"The number of remote job openings included in our company database grew by 25% in 2019, with more than 300,000 remote jobs added—a company record," Spawn said. "This growth is evidence of the high demand for remote jobs, and how more employers are becoming remote-enabled so that they can offer the flexible, home-based, and 100% virtual positions jobseekers want."
These remote-friendly employers cover all regions of the country, according to Virtual Vocations' 2019 Year-End Report, with states like California, Illinois, and Texas leading the pack in the number of flexible positions available. But thanks to the location independence that comes with remote work, you don't need to live in a telecommuting hot spot to take advantage of flexible working arrangements.
Even industries once thought to be incompatible with remote work are transitioning away from traditional models, with fields like education and healthcare among the top industries for remote work in 2019, according to Virtual Vocations. Information technology (IT), sales, and account management rounded out the top five—and that's just the tip of the iceberg.
Whether you want to work from home so you can spend more time with family or you're looking for a side gig to grow your income, Virtual Vocations' 2019 Year-End Report makes it clear jobseekers can head into 2020 feeling confident that remote work is a viable option for them.
To view Virtual Vocations' full 2019 Year-End Report and Remote Jobs Statistics, visit https://www.virtualvocations.com/blog/telecommuting-news/2019-year-end-report-remote-jobs-statistics-virtual-vocations/ or click here to download a summary.
ABOUT VIRTUAL VOCATIONS
Founded in 2007 by CEO Laura Spawn and her brother, CTO Adam Stevenson, Virtual Vocations is a small company with a big mission: to connect jobseekers with legitimate remote job openings. To date, Virtual Vocations has helped more than two million jobseekers in their quests for flexible, remote work.
In addition to providing a database that houses more than 20,000 current, hand-screened remote job openings at any given time, Virtual Vocations offers jobseekers a number of tools to aid in their job searches, including exclusive e-courses and downloadable content, and resumé writing services. Virtual Vocations also releases several data-driven reports each year on current trends in remote work.
Virtual Vocations, Inc. is a private, family-owned, and 100% virtual company incorporated in Tucson, Arizona.
PRESS INQUIRIES
Michelle Rawlings
michelle(at)virtualvocations(dot)com
1 (800) 379-5092 ext. 703
VirtualVocations.com