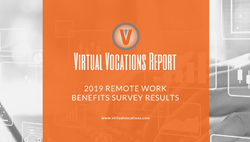 "Employers can use this data to determine how to keep their remote employees satisfied and how to attract interest from new, qualified candidates by offering competitive benefits packages in remote work environments." —Laura Spawn, CEO & co-founder of Virtual Vocations
TUCSON, Ariz. (PRWEB) November 19, 2019
A recent survey from Virtual Vocations reveals that when it comes to employee benefits, remote professionals have a lot to gain.
In October 2019, Virtual Vocations, the web's largest hand-screened, all-telecommute job board, conducted a voluntary survey in hopes of learning more about how working professionals view employee benefits in the remote workplace. The results, released in a report Tuesday, show that telecommuters are just as interested in benefits as their traditional counterparts—but not all remote professionals are getting what they ask for.
Over 4,600 responses were submitted to the company's survey, which ran from Oct. 7 to 11, 2019. Of those respondents, 82.81% said they'd rather work from home full-time than have unlimited paid time off (PTO), a sign that day-to-day flexibility is more important to working professionals than extra vacation time.
In fact, nearly three-quarters (73.47%) of respondents said they were willing to take a 20% reduction in pay to work from anywhere.
But it isn't just flexibility that matters to remote jobseekers. Less than 15% of those surveyed reported being "very satisfied" with their current benefits package, and nearly one-quarter of respondents were "not satisfied" at all.
While jobseekers remain split on whether they'd prefer a job with higher pay and no benefits (54.55%) or lower pay and more benefits (45.45%), more than 80% of those surveyed agreed that they'd prefer "a few major benefits" like health insurance and retirement planning over perks like gym memberships and paid time off to volunteer.
When asked to rank potential employer benefits in order of what appeals most, a staggering 47.56% of respondents chose health insurance as their No. 1—and it seems jobseekers aren't afraid to chip in to make it happen. More than 65% of those surveyed said they'd be "happy to contribute" to a health insurance plan if it meant peace of mind for their health care needs.
Virtual Vocations CEO and co-founder Laura Spawn hopes this information can help remote employers pinpoint what jobseekers are looking for while better meeting the needs of their current employees.
"Virtual Vocations conducted this survey in an effort to shine light on the benefits remote workers value most in addition to personal and professional flexibility," Spawn said. "With remote work becoming more commonplace, employers can use this data to determine how to keep their remote employees satisfied and how to attract interest from new, qualified candidates by offering competitive benefits packages in remote work environments."
Click here to download Virtual Vocations' full report of its 2019 Remote Work Benefits Survey Results, or view the report online at https://www.virtualvocations.com/blog/telecommuting-news/2019-remote-work-benefits-survey-results.
ABOUT VIRTUAL VOCATIONS
Founded in 2007 by CEO Laura Spawn and her brother, CTO Adam Stevenson, Virtual Vocations is a small company with a big mission: to connect jobseekers with legitimate telecommute job openings. To date, Virtual Vocations has helped more than two million jobseekers in their quests for flexible, telecommute work.
In addition to providing a database that houses more than 20,000 current, hand-screened remote job openings at any given time, Virtual Vocations offers jobseekers a number of tools to aid in their job searches, including exclusive e-courses and downloadable content, and resumé writing services. Virtual Vocations also releases several data-driven reports each year on current trends in telecommuting.
Virtual Vocations, Inc. is a private, family-owned, and 100% virtual company incorporated in Tucson, Arizona.
PRESS INQUIRIES
Michelle Rawlings
michelle(at)virtualvocations(dot)com
1 (800) 379-5092 ext. 703
VirtualVocations.com