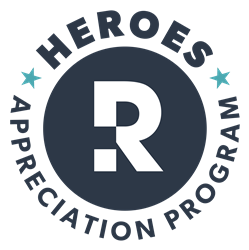 "We care deeply about those who have served or continue to serve in the U.S. Military," said Tom Weber, Removery CEO. "We look forward to supporting them in their tattoo journeys through our Heroes Campaign."
AUSTIN, Texas (PRWEB) November 09, 2021
According to a study conducted at the Walter Reed Institute, 36 percent of those serving in the U.S. Armed Forces have tattoos. But many veterans returning to civilian life find that their tattoos bring back painful memories and can make it difficult to find employment. Removery, the world leader in laser tattoo removal services today launches its Heroes Campaign to help military veterans remove unwanted tattoos with a 20% discount from November 11th to November 24th.
Tim Sova is a Marine Corps veteran who completed two tours in Iraq. He joined the military at the age of 17, and like many military service members before him, he started getting tattooed at 18. After returning to civilian life, Tim was diagnosed with PTSD and found that his tattoos triggered many painful memories that he wanted to move past. He also needed to remove a portion of a tattoo to enter the state trooper academy in Massachusetts, so he turned to Removery for help.
"Tattoos are a huge part of military culture, and veterans are among some of the most inked members of society," says Tom Weber, CEO of Removery. "Sadly, many veterans like Tim Sova suffer from PTSD as a result of being in combat, and oftentimes their tattoos can reflect those painful memories. While many veterans wear their tattoos with pride, we are seeing an increasing rate of service members wanting to remove them."
Removery worked with Tim to fade a tattoo on his right shoulder depicting skulls, a Maltese cross and flames. "My tattoo constantly reminded me of an incredibly difficult time in my life," said Tim. "Now it's a more peaceful tattoo, which has definitely helped me to wash away some bad memories."
Kevin Marburger is another military veteran who worked with Removery to help turn his life around. He joined the military after 9/11 and was medically retired after two combat injuries in Afghanistan. Upon returning to the United States, Kevin was seeking a place to belong and fell victim to a hate group that used his own personal pain to brainwash him into accepting their ideology. He tattooed himself with anti-Arab images that reminded him of his time in combat. After attempting suicide, Kevin completed a 12-step rehabilitation program and left the group. He deeply regretted the hateful images that remained on his body. He turned to Removery to remove those tattoos and close that dark chapter in his life.
The tattoo removal market has been growing rapidly in recent years because of technological improvements and increased awareness that removal can be a safe option for many who are rethinking tattoos they've had for years.
"We care deeply about those who have served or continue to serve in the U.S. Military," says Weber. "We look forward to supporting them in their tattoo journeys through our Heroes Campaign."
Removery's Heroes Campaign offers a 20% discount on any package purchased by military or military recruits with valid military ID or recruiter's letter. The discount is also available to first responders and nurses. To learn more or sign up for a free consultation, visit http://www.removery.com.
Read more about Kevin's tattoo journey here, and Tim's tattoo journey here.
About Removery
Removery is the largest specialized provider of laser tattoo removal services in the world with more than 70 locations across the U.S., Australia and Canada. Its laser specialists are highly trained in Candela's state-of-the-art PicoWay® lasers. Removery is clinically driven and the only tattoo removal brand with an Advisory Board that consists of leaders in the medical, dermatology, aesthetic, plastic surgery, and laser industries. To learn more about Removery and tattoo removal, see before-and-after pictures, or schedule an in-person or virtual consultation, visit Removery.com.