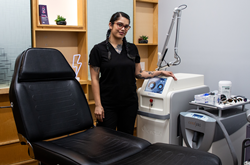 "We are eager to empower Oklahomans to become who they want to be, by giving them choices over their tattoos while providing the highest quality service and care at every stage of their tattoo removal journey." -- Tom Weber, CEO of Removery
AUSTIN, Texas (PRWEB) November 03, 2021
Removery, the world leader in laser tattoo removal services announced today that it has opened a new studio in Oklahoma City, OK. A prime location in Belle Isle Shopping Center just off the NW Expressway, this is the brand's first location in Oklahoma. To celebrate the grand opening and its commitment to Oklahoma City, Removery is partnering with The Dragonfly Home, a non-profit dedicated to providing the highest standard of care for survivors of human trafficking in Oklahoma City and throughout Oklahoma.
"We are thrilled to open our doors in Oklahoma City, our first location in the Sooner State," said Tom Weber, CEO of Removery. "We are eager to empower Oklahomans to become who they want to be, by giving them choices over their tattoos while providing the highest quality service and care at every stage of their tattoo removal journey."
The tattoo removal specialists at Removery are highly trained in the most advanced laser tattoo removal equipment and procedures. Removery uses PicoWay® laser technology that makes their work as fast, effective and comfortable as possible while minimizing the number of treatment sessions. The laser also enables Removery specialists to target any tattoo, no matter the ink colors used or skin type.
INK-nitiative Program
In alignment with the grand opening, Removery is inviting the Oklahoma City community to visit https://removery.com/about-us/ink-nitiative/ to nominate individuals for the INK-nitiative program. A global community outreach initiative, Removery's INK-nitiative program is designed to provide safe, effective and free tattoo removal on the hands, neck and face to those who were formerly incarcerated, gang members, survivors of human trafficking and those who wish to remove hate symbols or racist tattoos. For every paying person who completes their tattoo removal journey, Removery will provide a removal service to someone in need.
"In conjunction with our new location opening in Oklahoma City, we are hosting an open call for our INK-nitiative program," added Weber. "Old tattoos can be a painful reminder of a life left behind. We want to empower people who've had the courage to change and help them feel confident in their new path."
The Dragonfly Home
Removery will be an official tattoo removal partner of The Dragonfly Home, providing free removal of tattoos on the face, neck and hands of survivors, as well as discounted tattoo removal on other areas of the body. "Our organization is honored to partner with Removery," said Whitney Anderson, Executive Director of The Dragonfly Home. "The INK-nitiative program and The Dragonfly Home both support survivors in transformation, courage and resilience, and together our services will help them on their paths to freedom and restoration."
About Removery
Removery is the largest specialized provider of laser tattoo removal services in the world with more than 70 locations across the U.S., Australia and Canada. Its laser specialists are highly trained in Candela's state-of-the-art PicoWay® lasers. Removery is clinically driven and the only tattoo removal brand with an Advisory Board that consists of leaders in the medical, dermatology, aesthetic, plastic surgery and laser industries. To learn more about Removery and tattoo removal, see before and after photos or schedule an in-person or virtual consultation, visit Removery.com.