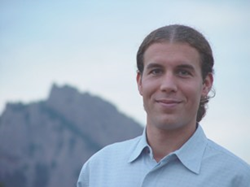 Long-term green power procurement comes at a time when a great paradigm shift is underway in renewable energy.
BOULDER, CO (PRWEB) March 05, 2014
Colorado-based Renewable Choice Energy announced today that founder and CEO Quayle Hodek will be a featured speaker during an upcoming U.S. Environmental Protection Agency (EPA) Green Power Partnership (GPP) webinar on long-term green power procurement. In addition to Hodek, the March 13th webinar entitled Long-term Green Power Procurements from Wind Projects will include speakers from the EPA, Sprint, and Salesforce.com.
In an era of fluctuating energy prices, questions about long-term energy security, and ever-increasing greenhouse gas emissions, progressive companies have begun to consider alternatives for longstanding energy procurement and carbon reduction, including investing in large scale wind and solar projects. For example, in November, Microsoft announced it had entered into a 20-year power purchase agreement with Colorado-based developer RES Americas to obtain wind power from the Keechi wind project located near San Antonio, Texas.
"The topic of long-term green power procurement comes at a time when a great paradigm shift is underway in renewable energy," said Hodek. "The expense of utility-scale solar and wind power projects has begun to reach grid parity, creating a considerable opportunity for forward-thinking companies to save energy costs as well as reduce emissions."
Hodek is widely recognized as a pioneer in green power marketing for his efforts introducing renewable energy and carbon reduction options to new markets and industries. He was instrumental in the creation of the Green-e Certification Program, North America's highest industry standard for renewable energy purchasing, and Hodek and Renewable Choice are founding members of the Renewable Energy Marketers Association (REMA), a trade association dedicated to maintaining and growing strong markets for renewable energy in the U.S. In 2012, the company was recognized as a Green Power Supplier of the Year by the EPA.
"The GPP program is helping to promote green power leadership in more than 1,500 organizations, and I'm delighted to have the opportunity to join the EPA to discuss such a pertinent topic," said Hodek.
For more information, or to register for the March 13 webinar, visit http://www.epa.gov/greenpower/events/
About Renewable Choice
Renewable Choice Energy is a leading provider of green power, carbon offsets, sustainability consulting, and renewable energy advisory services. Recognized as a trusted partner to numerous major brands, Renewable Choice has also supplied green power to over 4,000 LEED® certified building projects. Renewable Choice was awarded the Green Power Supplier of the Year from the U.S. EPA in 2012 and is a certified B Corporation. To learn more, visit http://www.renewablechoice.com.